Family of driver killed in drone strike targeting Taliban leader sues US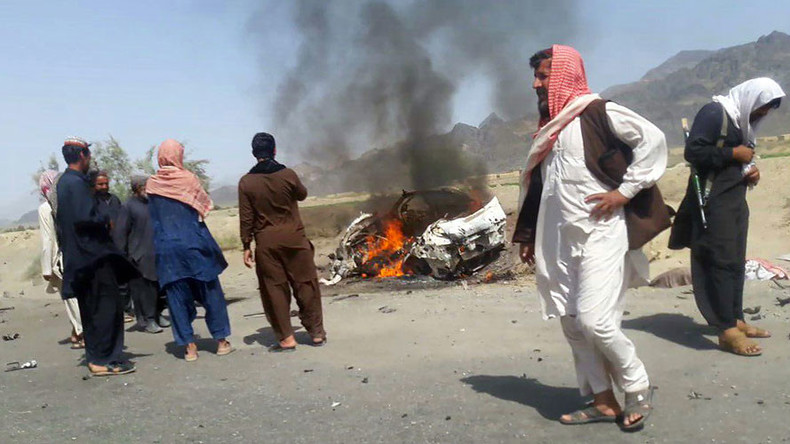 The family of the driver killed in a US drone strike targeting Afghan Taliban leader Mullah Akhtar Mansour in Pakistan has lodged a criminal case against the US government, according to police. The family is seeking to press murder charges.
Mohammad Azam, the taxi driver who picked Mullah Mansoor up on the Iranian border to reportedly take him to the remote town of Ahmad Wal in Balochistan, some 160 kilometers west of Quetta, was killed along with the Taliban leader in the US airstrike on May 21.
Both men died in the Toyota Corolla that was reduced to a burned-out shell after the airstrike, leaving Azam's family reportedly with no means of support. A First Investigation Report for murder filed by Azam's brother Mohammad Qasim lays the responsibility for the attack with the US authorities.
"He was the sole breadwinner of our large joint family, this was an attack on our family that hardly earns enough for two meals a day," Qasim wrote in the police report seen and quoted by Reuters.
Once the document is filed, Pakistani police are obliged to investigate the incident. "I want justice and demand action against the US authorities," his brother wrote.
Neither the Pakistani, nor American governments have so far contacted the family consisting of Azam's wife, his four children, and a disabled brother Yar Muhammad, to discuss compensation after the loss of the breadwinner.
"Who will feed them now?" Qasim said of his brother's children who are now calling their deceased father a "martyr." "I appeal to the civilized world, including all those human rights bodies, to investigate the brutal murder of my brother and compensate his children."
The Americans killed his brother "just for driving a car," Qasim said, stressing, "It was not written on [Mansour's] forehead that he is a Taliban leader. He was traveling with valid documents."
A local government official Mureed Shah who used to know Azam personally gave an assurance that Azam had "no links with any militant group" and was only doing his job to support his family, the Guardian reported.
"I have written to the government in Quetta to pay compensation to the family," Shah said according to the newspaper.
"In our view, both the (officials) who ordered and those who executed the drone strike are responsible for (killing) a man who had nothing to do with terrorism, who was a non-combatant," Azam's uncle, Allah Nazar, told AP.
Mansour was traveling from Iran, where he had undergone medical treatment and visited family members, under the guise of a Pakistani citizen, using a passport and national ID card with the name Muhammad Wali on both documents.
After crossing the Iranian border, Mansour started to look for a way to cover the 600 kilometers to his final destination. He rejected a seat in a Quetta-bound minibus.
Azam accepted his final job allegedly by chance, without knowing who his passenger was going to be.
A US drone launched its missiles on the car carrying Mansour in the mid-afternoon on May 21, when the Taliban leader was six hours into his journey, having covered at least two thirds of the distance to Quetta. The attack occurred after a stop in the town of Ahmad Wal, some 35 kilometers from Afghan airspace.
The US government is known for paying compensations to civilian victims of their military operations, including airstrikes, in Afghanistan, yet there have been no payments made so far in Pakistan. Since 2004, CIA drone strikes have killed nearly 2,400 people in Pakistan alone, only 84 of whom were named as members of a terror group, according to a report from the London-based Bureau of Investigative Journalism. President Barack Obama acknowledged in April that innocent civilians have been killed in US drone strikes, which are carried out throughout the world, despite intelligence on targets being "triple-checked."
Earlier, the Pakistani government refused to confirm the death of Mansour in the strike. However, on Sunday DNA tests conducted by the Pakistani authorities confirmed that the slain person was in fact the Taliban chief Mullah Mohammed, according to a Pakistani media report citing an Interior Ministry statement. The DNA of one man killed in the drone strike was successfully matched with a close relative of Mansour, the ministry's statement said.
Islamabad has denounced Washington's attack on the Taliban leader on its territory, with Pakistan's Foreign Ministry calling it "a violation of sovereignty." The government was allegedly only informed of the operation after it had been carried out.
You can share this story on social media: