12 Real Madrid fans slaughtered in Iraq during Champions League final – report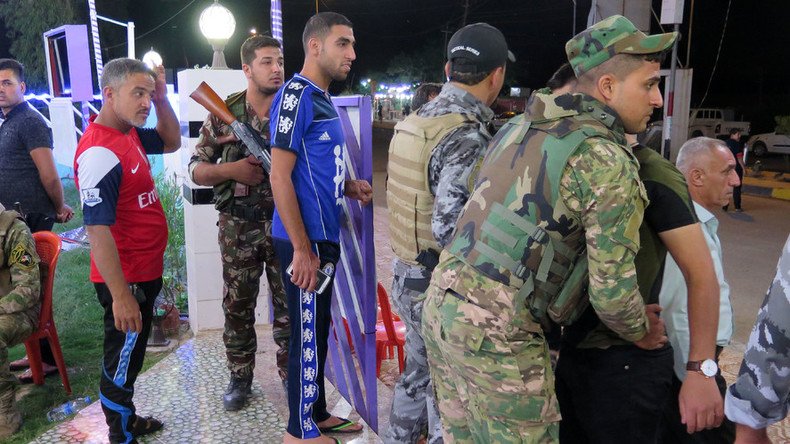 At least 12 Real Madrid fans have reportedly been slain in Iraq, as the Spanish club challenged Atletico for the Champions League title. Real, meanwhile, dedicated their victory to Iraqi fans murdered by ISIS gunmen during a similar massacre.
Saturday's attack on the fans' club in Baakouba reportedly took place as Real and Atletico were about to start the penalty shootout following extra time to finally determine the winner of the title. According to the Spanish AS sports news, four gunmen stormed the supporters' venue, firing indiscriminately before fleeing the scene.
"It was a similar type of attack to the one that took place earlier in the month. Twelve people have been killed and at least eight wounded, who have been taken to hospital," Ziad Albidani, the president of the Real fanclub in Baakouba told the publication.
Other sources told the publication that the death toll could be lower, with four fans aged 18-30 dead, with five others injured. No official information on the attack has yet been shared by the Iraqi authorities.
"The army are restricting the information that is coming out of the scene. This is a terrible situation. They are destroying the happiness of all Madrid fans on such a special night," the president of an associated Real Madrid supporters club in Iraq, told AS.
The town of Baakouba, located about 60 kilometers north of Baghdad also lies less than 90 km away from Balad, a city that witnessed the first attack on Real fans by the Islamic State (IS, formerly ISIS/ISIL) terrorists on May 13. Sixteen people were killed by three gunmen at the Al Furat cafe, leaving more than 20 injured.
On Saturday, Real went on to win the title beating Athletico 5(cat) in a penalty shootout after full and extra time ended with 1:1. After the victory in Milan, Real Madrid president Florentino Pérez said that he would like to "dedicate this cup to our fans in Iraq."
In a statement in the aftermath of the attack earlier this month, Real Madrid said that the club "profoundly laments" the terrible attack and "expresses its total sadness and offers its thoughts and condolences to the families and friends of the victims."
Ahead of Saturday's match, Iraq's security forces have deployed extra personnel around Al Furat cafe to protect the venue. However this time, the terrorists struck another target.
Football is effectively banned in areas controlled by IS. Watching or following the world's most popular game is severely punished within the ranks of hardline extremists. Earlier this month European security services warned that France faces an increased terrorist threat during the upcoming Euro 2016 football tournament.
You can share this story on social media: