VIDEO: Policeman grabs woman by throat, slams her down, as French clashes escalate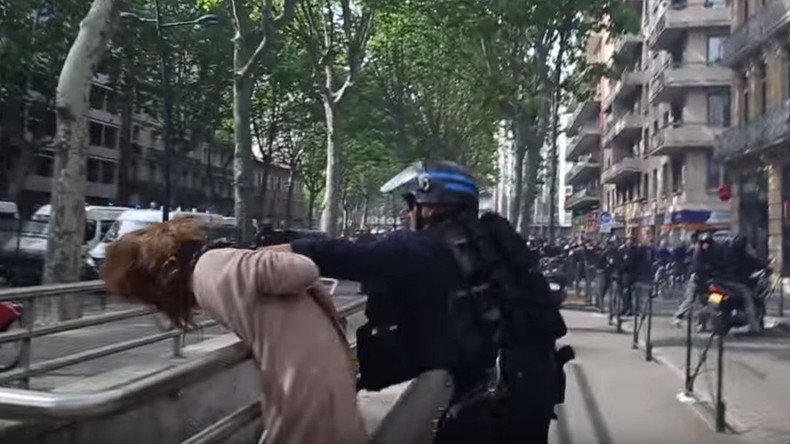 A shocking video has emerged of a Toulouse policeman dressed in riot gear assaulting a woman, following a verbal provocation during a labor reform protest. The demonstrations have become increasingly radicalized, with aggressive tactics on both sides.
Two videos featuring the woman were posted by a YouTube account, Ben Art Core, that appears sympathetic to the cause of the demonstrators, who have been regularly flooding streets of most notable French urban centers since the turn of the year.
The footage appears to be selectively edited, but in the first video, the woman can be seen trying to restrain officers, as they pounce on one of the demonstrators, while appearing to be overmatched, during Thursday's chaotic rally in the southern city. As they rip the clothes off a demonstrator she picks up his jumper, and attempts to hand it back to a row of impassive officers. Local media reported that he was detained for causing violence with a homemade weapon.
The second video starts with a policeman blocking the same woman off from walking down a street, where a cordon has been erected.
But she follows him, hurling a torrent of abuse, including "F**k off!"
The middle-aged officer, who is holding a tear gas cannon, then turns around, grabs her by the throat, and throws her against a railing, before flinging her onto the ground.
As she struggles to get up, he walks off, while the cameraman helps her up.
Seventy-seven people were arrested on Thursday, out of more than 150,000, who participated in the demonstrations throughout the country, according to the interior ministry, though organizers say that these numbers are several times lower than actual attendance.
Organized by unions, students, and social media grassroots movements, such as Nuit Debout, several of the marches descended into violence, with demonstrators bull-rushing police officers, and throwing stones, only to be tear gassed and restrained in return.
Using more sophisticated tactics, protesters also attempted to block roads, and cut off access to oil terminals, to partially paralyze the traffic network, in conjunction with nationwide strikes by an array of industries.
The contentious reform was put forward by the Socialist government of Francois Hollande, in a bid to cut the country's chronic unemployment – which stands at 10 percent – by deregulating the labor market.
While Hollande's plan was opposed by many, including those on the left wing of his own party, protests remained under control until the government invoked a rarely-used article of the constitution, to push it through parliament without a vote earlier this month.
Since then, rallies have been almost non-stop, and protesters are not threatening to sabotage Euro 2016, the international football tournament that kicks off in the country in two weeks.
You can share this story on social media: