Berlin considers relaxing Russia sanctions, says they're 'not end in themselves'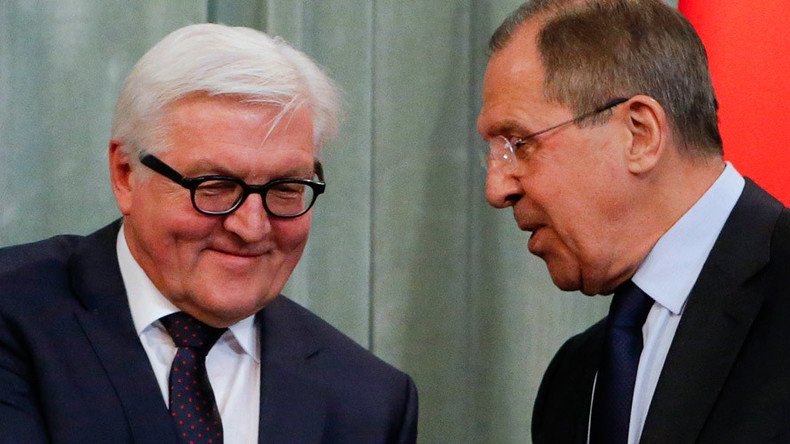 The German government is considering a plan to gradually ease economic sanctions imposed on Russia by the EU in return for Moscow's cooperation in implementing certain parts of the Minsk accords, media report.
The plan to loosen economic sanction step-by-step is backed by the Chancellery, Spiegel magazine reported on Friday.
Moscow would be expected to assist with the local election in eastern Ukraine, which is to take place as part of the landmark Minsk accords that was sealed by France, Germany, Russia, and Ukraine in February of 2015 to put an end to the Ukrainian crisis. Parts of eastern Ukraine are currently under the control of pro-Russian rebels.
The new German plan would appear to be in conflict with the EU's current position that links lifting sanctions to full implementation of the Minsk agreement and does not foresee any partial options.
"My attitude has always been such – sanctions are not an end in themselves," German Foreign Minister Frank-Walter Steinmeier told the magazine on Friday.
German Foreign Ministry spokesman Martin Schäfer added, "In the current situation this means that a demand for all or nothing will not bring us any closer to our goal. If substantial progress is made, the gradual reduction of sanctions must also be an option."
"This is one point on the agenda of the European debate that is just beginning… And there is enough time for this before we have to take decisions in June or July," the ministry said.
The statement also points to several developments in Ukraine that Berlin sees as positive for the Minsk peace process.
"The threat of open military conflict" in Eastern Ukraine is "banished" at the moment, the statement emphasizes, while the ceasefire between the Ukrainian army and rebel forces "is basically holding along the line of contact, which has not moved for many months."
Although criticizing the Minsk process for lack of "tangible progress" and noting that the truce is marked by "frequent" violations, the German statement stresses that "this is certainly not due to the lack of commitment and engagement of the mediators in Berlin and Paris."
German Vice-chancellor and Minister for Economic Affairs and Energy Sigmar Gabriel, another political heavyweight, said earlier that he supports the Foreign Ministry's vision for lifting the sanctions without insisting on an "all or nothing" approach.
"I think that the position of the [Foreign Minister] is correct. He says that the previous position of the European Union to say there needs to be 100 percent implementation of Minsk and then 100 percent removal of sanctions – that this isn't particularly clever," Gabriel said on Wednesday at the "Russia Day" business conference in Rostock.
"We know, in fact, from all of our experience that nothing comes of long-term isolation," Gabriel said, before adding, "there is still a great deal that Russia needs to do, but not only Russia, also Ukraine and Europe as well."
Berlin's discussion about gradually lifting sanctions on Russia has triggered anger in Kiev, which said Gabriel's statement "represents "deviation from the target." Ukraine's ambassador to Germany, Andrey Melnyk, told Tagesspiegel newspaper on Friday that he had asked the Foreign Ministry "to clarify whether this position reflects that of the federal government."
Foreign Minister Steinmeier said earlier on Thursday that growing dissent on the sanctions among EU member states will be an obstacle to automatically prolonging them when they expire on July 31. Notably, Germany wants to keep the sanctions in place until the Minsk accords are implemented, he added.
You can share this story on social media: