Family with children jumps from burning 5th floor in horrifying footage (VIDEO)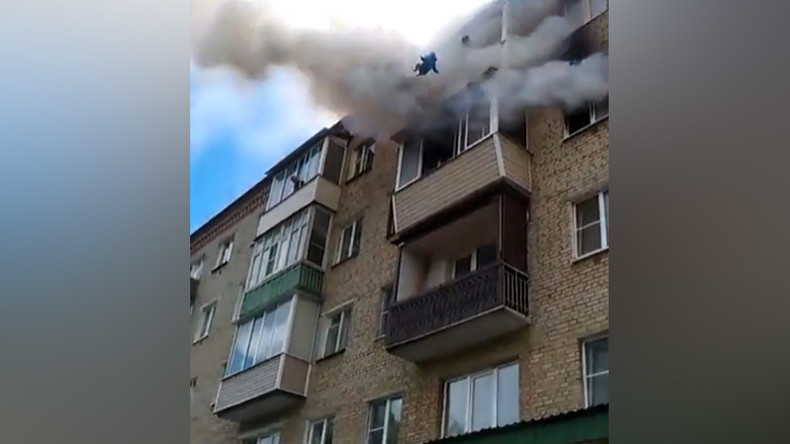 An entire family of four, including an 11-month-old baby, has taken a leap of faith from a burning five-story building. The video makes it look an incredibly dangerous close call, as bodies plummet freely into the hands of people below.
An apartment on the fourth floor was overcome with an unstoppable blaze that began to engulf the apartment above, where the family with two children lived. The incident took place on May 22 in the town of Strunino in Russia's Vladimir region.
When breathing became unbearable and posed a deadly hazard, the family went onto the balcony. The 27-year-old father, Vitaliy, found an old carpet there, threw it down and asked people down on the ground to catch his family, Russian TVC channel reported.
The horrifying video shows the 11-month old boy Zhenya being hurled out of the blackened balcony by some unseen force, as a crowd with their hands on the carpet await below. Three-year-old Ksenia followed her brother in a matter of seconds.
The fire itself, which apparently started because the neighbor from below was making pancakes, was put out in no more than 20 minutes. But in that time the entire family had already taken its chances.
"I thought of nothing but saving my children," Elena said, as cited by Bloknot website.
The Emergencies crew arrived in a matter of minutes, joining the neighbors downstairs.
The last to jump was Vitaliy himself. He hurt his back severely and was sent to hospital.
Elena later described the feeling of utter horror and helplessness when the entire apartment block was so congested with smoke it was impossible to do anything but jump out of the top floor.