Ukrainian pilot Savchenko release not part of Minsk accords – Moscow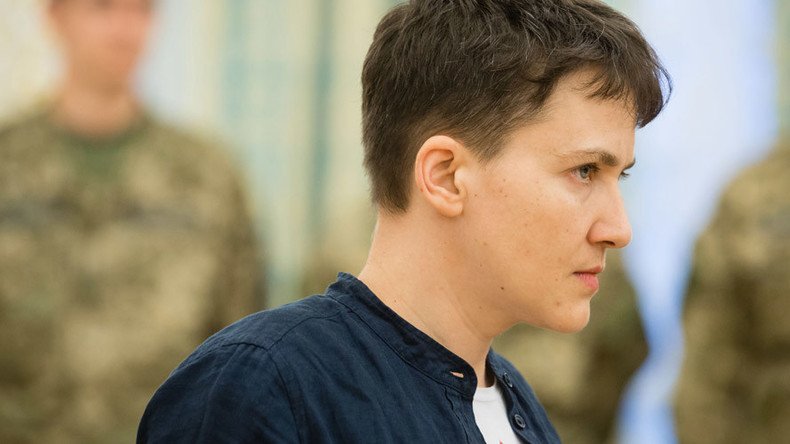 Russia's pardoning of Ukrainian pilot Nadezhda Savchenko and swapping her for two Russians is in no way related to the Minsk agreements for a peaceful settlement in eastern Ukraine, the Russian Foreign Ministry spokeswoman told journalists.
Maria Zakharova was reacting to comments made in Europe and the US, following Savchenko's release.
"This is one big myth that the Savchenko case and her swap for two Russians either complies with or is in line with or is a natural part of the Minsk agreements," Zakharova told journalists stressing that the "Savchenko case is not linked to the Minsk accords."
"As for the successful implementation of the Minsk agreements, there is only one way for it and it is direct dialog between Kiev and eastern Ukraine," she added.
Zakharova said that "a myth" about a link between Savchenko's swap for two Russian citizens and the implementation of the Minsk accords "is cultivated with no apparent reason."
On Wednesday, the US as well as several European leaders welcomed Savchenko's pardon as a part of the Minsk agreements. French President Francois Hollande called it "a significant move for the implementation of the Minsk agreements" while German Foreign Minister Frank-Walter Steinmeier expressed his hope that Savchenko's "exchange will… give a positive impulse to the Minsk process."
US State Department Deputy Spokesman Mark Toner called Savchenko's release "an opportunity to all sides, especially Russia, to fulfill its commitments under the Minsk agreement."
Russia has repeatedly denied being a participant in the conflict in Ukraine.
On Wednesday, Russian Foreign Minister Sergey Lavrov once again addressed the issue in an interview to the Hungarian Magyar Nemzet newspaper.
"The EU has linked the lifting [of sanctions imposed against Russia] to Russia implementing the Minsk accords. Such linkage is absurd, as our country is not a side of the Ukrainian conflict. Such presentation of the issue only allows Kiev to sabotage the realization of the Minsk [accords] with impunity," Lavrov said.
Earlier, Maria Zakharova pointed out that the agreements, which do envisage all-for-all prisoner exchange between Kiev and rebellious eastern Ukrainian Lugansk and Donetsk regions, do not cover cases such as that of Savchenko's, who was found guilty of complicity in the deaths of two Russian journalists, killed by Ukrainian artillery fire she directed.
Moscow has repeatedly accused Ukrainian government of "openly sabotaging" the Minsk agreements and criticized the US and Europe for their inability to exert their influence on Kiev.
'Aggressive statements won't help Minsk accords'
Maria Zakharova also denounced as "aggressive" Ukrainian President Petro Poroshenko's statements, which he made after Savchenko's swap for two Russians.
"They [the statements] are aggressive. They do not contribute to creation of any positive atmosphere that could particularly promote the push for the realization of the Minsk [accords]," she said.
On Wednesday, Poroshenko vowed to "bring back" Crimea and the eastern Ukrainian regions of Donetsk and Lugansk to being"under Ukrainian sovereignty" "just as we [Ukraine] brought back Nadezhda [Savchenko]."
The Kremlin said it welcomes Poroshenko's intention "to bring back" eastern Ukraine, it this intention stems from humanitarian considerations as in case of pardoning Ukrainian pilot.
"If he [Poroshenko] meant that he is willing to bring back Donbass [the eastern Ukrainian regions] in reliance upon humanitarian considerations, then such statement can be welcomed. This is what we in Moscow hope for," Russian President Vladimir Putin's spokesman Dmitry Peskov said.
"As for Crimea, we do not comment on claims to Russian regions," Peskov added.
On Wednesday, Russian President Vladimir Putin pardoned Ukrainian pilot Nadezhda Savchenko, who was found guilty by a Russian court of murdering Russian journalists Igor Kornelyuk and Anton Voloshin near Lugansk, eastern Ukraine, in June 2014 and of illegally crossing the Russian border.
It has been revealed that in March, relatives of the slain journalists, Kornelyuk and Voloshin, addressed Putin with a plea to pardon Savchenko. She was then swapped for two Russian citizens jailed in Ukraine on terrorism charges which they had denied.
The Minsk agreements were reached in February 2015 to bring peace to eastern Ukraine, where Kiev launched a military operation against rebels in the Lugansk and Donetsk regions in April 2014, two months after the coup in Kiev brought to power a western-leaning government containing many nationalists.
The agreements envisage a full ceasefire, heavy weapons withdrawal from the line of contact in eastern Ukraine and an all-for-all prisoner exchange – leading to local elections and constitutional reforms, which would give a special status to Donetsk and Lugansk regions.
You can share this story on social media: