US spy plane created 'real threat' to KLM & Swiss flights over Sea of Japan – Moscow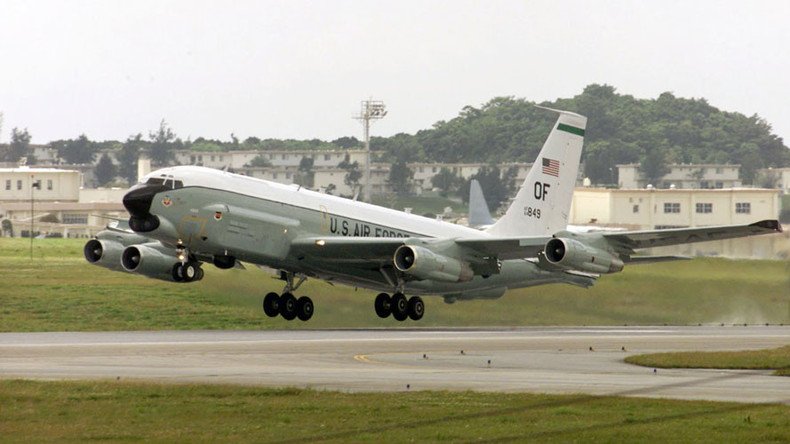 A US spy jet flying near Russia's eastern borders over the Sea of Japan on May 22 "created a real threat" to passenger planes, Russia's Defense Ministry said. A new and similar episode in the same area has been reported by Russian media.
US spy planes conduct flights along the Russian frontier in the east almost on a daily basis, according to Defense Ministry spokesman Major-General Igor Konashenkov.
"However, this time while maneuvering along the international air route, the US spy plane created a real threat of collision for passenger aircraft, which could lead to catastrophic consequences," the spokesman said.
On May 22, a US RC-135 spy plane launched from the Kadena Air Base carried out a reconnaissance flight over the Sea of Japan at an altitude of 10,000 meters with a switched-off transponder, a device responsible for emitting an identifying signal, the Russian Ministry of Defense reported earlier.
Konashenkov reminded that when approaching Russia's border, an RC-135 reconnaissance plane found itself on the international air route flown by a KLM Dutch Airlines (Tokyo-Amsterdam) and a Swiss Airlines (Tokyo-Zurich) passenger planes.
"The Swiss crew asked Russian dispatchers of the Vladivostok air traffic control regional center for visual observation of the four-engined aircraft of unknown origin moving towards them," Konashenkov said. "After assessing the situation, in order to avoid a dangerous approach of the passenger and spy planes, at 5:41am Russian dispatchers gave a command [to the SWISS crew] to lower their flight level," Konashenkov said.
Russia's Defense Ministry summoned a US defense attaché for an immediate explanation in connection with the incident.
New report of 'spy plane' flying close to passenger aircraft
Konashenko's comment comes as a similar episode has been reported by Interfax, citing sources close to the situation. Russian dispatchers reportedly had to urgently adjust the altitude of a foreign passenger plane en route from Tokyo to Paris over the Sea of Japan, due to an unknown aircraft, supposedly a spy plane.
"Dispatchers detected an unknown aircraft on the radar at an altitude of about 10,000 meters. The aircraft didn't respond to queries from the ground and didn't automatically identify itself," the source said.
The passenger plane reportedly had to change its altitude by 500 meters (over 1,600ft) to avert a possible collision.
Official sources have not confirmed the report.
You can share this story on social media: