Russia/Ukraine Savchenko prisoner swap deal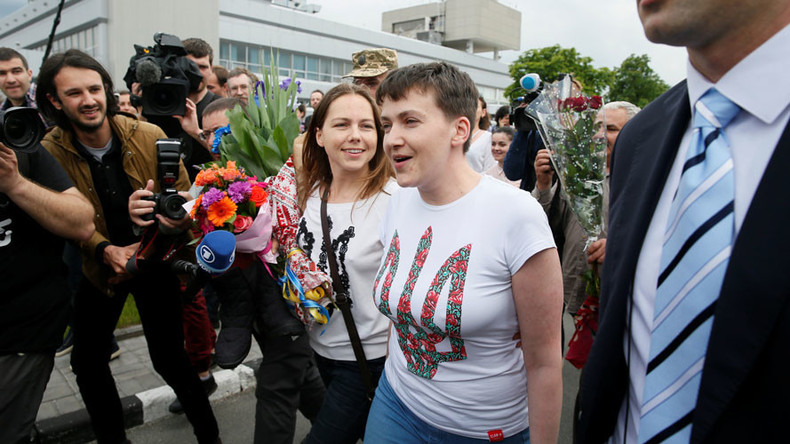 President Vladimir Putin has pardoned Nadezhda Savchenko, the Ukrainian pilot who was given 22 years in jail for her part in the killing of two Russian journalists. Savchenko arrived by plane in Kiev on Wednesday, while two Russian nationals jailed by Kiev have returned to Russia.
14:51 GMT

A top European human rights official has welcomed the release of Ukrainian pilot Nadezhda Savchenko by Russia and said he hopes it will lead "to more good things."

Council of Europe Secretary General Thorbjorn Jagland described Savchenko's release after two years in captivity as "a very good development," noting she is also a member of the Council of Europe's parliamentary assembly.

Jagland made the comment to The Associated Press during a visit to Athens, saying he had asked for Savchenko's release "for a very long time."

14:01 GMT

Ukrainian President Petro Poroshenko said Ukraine would win back control of eastern territories and Crimea, just as it has secured the release of pilot Nadiya Savchenko from Russian prison.

"Just as we brought back Nadiya, so we will bring back the (eastern) Donbass and bring back Crimea," he said at a briefing following Savchenko's return to Kiev from Russia.

13:34 GMT

Kiev has thanked the relatives of the dead Russian journalists for asking Vladimir Putin to pardon the jailed Ukrainian pilot, Nadezhda Savchenko.

"They have found courage, generosity, and an understanding of what the fate of Savchenko, who was given a long prison sentence by a Russian court, means today. They [the relatives] have turned to Russian President Vladimir Putin, with a request for pardon," Viktor Medvedchuk, Kiev's special envoy for humanitarian issues, told Russia-24 TV channel.

"This is a courageous civil gesture," he added.

13:34 GMT

Ukrainian President Petro Poroshenko has signed a decree to pardon Russian citizens Evgeny Erofeev and Aleksandr Aleksandrov.

12:57 GMT

Ukrainian servicewoman Nadiya Savchenko vowed on Wednesday to fight for the release of other Ukrainians in Russian custody following her arrival in Kiev from Russia as a result of a prisoner exchange.

"I will do everything possible in order that every person sitting in captivity be free," she told a scrum of journalists at Kiev's Boryspol airport.