Russian military denies ISIS destroyed its helicopters in Syria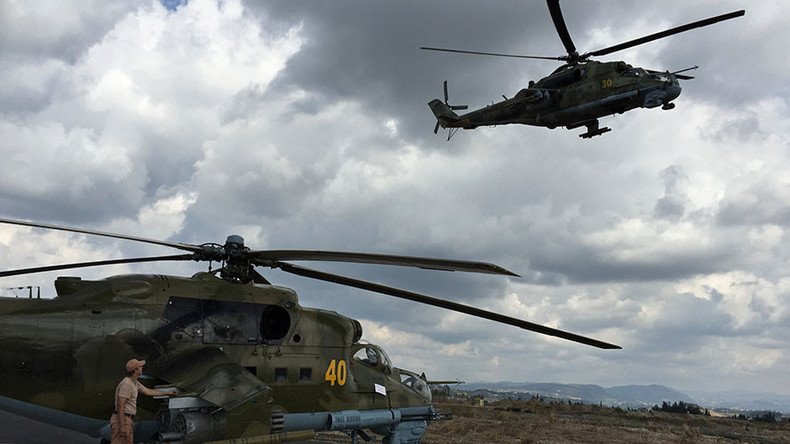 The Russian Defense Ministry has denied reports that Islamic State militants destroyed four Russian helicopters at an air base in Syria's Homs province.
"All Russian combat helicopters currently stationed in the Syrian Arab Republic, are performing routine tasks destroying terrorists. There have been no losses among the personnel of the Russian air base there," Defense Ministry spokesman Major-General Igor Konashenkov said in an official statement on Tuesday.
Stratfor, a private intelligence and analytical company, previously reported that Russian helicopters and supply trucks were destroyed in an Islamic State (IS, formerly ISIS/ISIL) attack, basing the data on a comparative analysis of satellite images of the T4 airbase in Homs province.
The Syrian Air Force base, according to Stratfor, had been used by Russian helicopters which were providing support to government troops during fighting for the liberation of Palmyra.
On May 14, ISIS announced that four Russian attack helicopters and 20 supplies trucks were destroyed by fire. Around the same time, according to Stratfor, Syrian government sources reported "random explosions" in the T4 base area.
The analysis of satellite images taken on May 14 and 17 prompted the intelligence company to conclude that four helicopters were actually destroyed at the base, as well as trucks, with a Syrian MiG-25 also being damaged. Stratfor claims that the nature of the damage seen in the satellite images indicates that the base fell under attack.
Konashenkov however stresses that "the authorship of rumors about the destruction of Russian combat helicopters and trucks belongs to IS agitators, who unsuccessfully tried to sell this alleged news some 10 days ago."
Concerning the pictures of the Syrian air base, the Defense Ministry representative noted that "burned aircraft and automotive electronics, as well as numerous craters from missile explosions have been there for more than one month" and are the result of heavy fighting in the airfield area between the Syrian government troops and terrorists."
Meanwhile Russia's RIA Novosti news agency reported, citing a source at the T4 base, that that the helicopters were damaged as a result of a fire at the airfield.
"The cause of the fire is unknown. It began near the area where the four helicopters were stationed, with fire-trucks unable to get close to the epicenter of the blaze due to a sudden mortar attack by terrorists. The flame quickly spread to helicopters," the source told the agency, adding no one has been injured in the shelling.
The Russian military has been participating in anti-terrorist operations in Syria since September 2015. On March 14, 2016 Russian President Vladimir Putin ordered the withdrawal of the main bulk of aircraft from the country, stating that the tasks entrusted to the military were "generally fulfilled." However, a limited military contingent remains in the country assisting the Syrian army in their fight against terrorist groups.
You can share this story on social media: