Greece starts clearing Idomeni migrant camp dubbed 'modern Dachau' (VIDEO)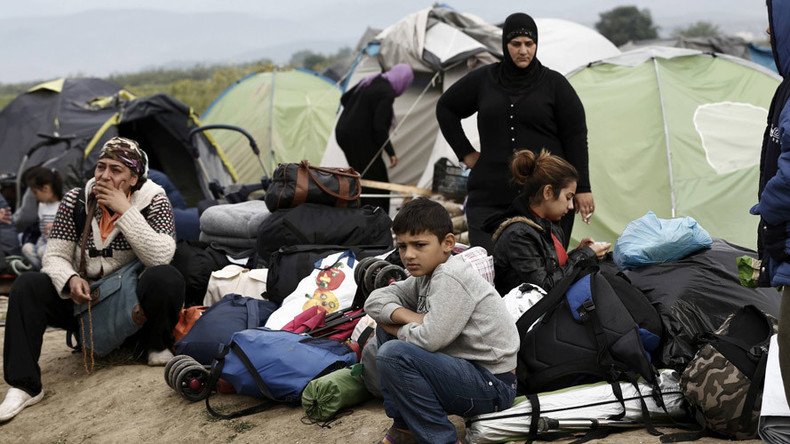 Greek security forces have begun moving refugees from a massive makeshift tent camp on the closed northern border with Macedonia. More than 8,000 people have accommodated at the Idomeni camp, desperate to progress into Europe.
A few busloads of migrants left Idomeni on Tuesday, and another dozen buses were preparing to leave, according to Reuters' witnesses. The people will be relocated to state-monitored facilities for refugees further south.
The majority of migrants leaving the camp on Tuesday were families, the witnesses said.
Officials say the process is under control. "The evacuation is progressing without any problem," government spokesman for the migrant crisis Giorgos Kyritsis said.
"Those who pack their belongings will leave, because we want this issue over with. Ideally by the end of the week. We haven't put a strict deadline on it, but more or less that is what we estimate," Kyritsis said, as cited by Reuters.
Another witness on the Macedonian side of the border reported increased security and heavy police presence, but no violence.
Up to 12,000 migrants at some point have been making do at Idomeni camp, after border closures throughout the EU made it impossible for them to reach central and northern Europe. According to the latest tally, the camp contained some 8,200 people.
The migrants have been blocking railway tracks connecting Greece and Macedonia for weeks, forcing trains to re-route through Bulgaria and stranding some cargo trains.
Human rights groups have frequently expressed concerns about the poor living conditions at Idomeni, deeming them a threat to health and safety.
The camp has even been called a "modern Dachau" by Greek Interior Minister Panagiotis Kouroumplis, who compared it with the notorious Nazi concentration camp.
You can share this story on social media: