Al-Nusra assembles 6,000-strong attack force in Aleppo – Russian MoD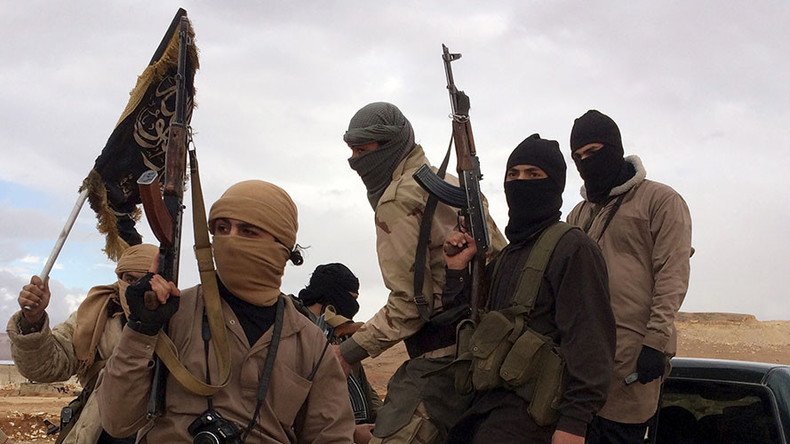 Al-Nusra Front has gathered a force of some 6,000 fighters in preparation for a major offensive in Syria's Aleppo province, as terrorists and their allies continue to disrupt the fragile US-Russian brokered ceasefire, the Russian Defense Ministry said.
While 59 armed groups have joined the process of reconciliation, which began in February with the introduction of ceasefire, terrorist factions in Syria like Islamic State (IS, formerly ISIS/ISIL) and particularly Al-Nusra Front continue their efforts to regain ground. The city of Aleppo, once a major stronghold of terrorists, remains a hot spot of Al-Nusra activities.
"The escalation of the situation in a number of Syrian regions is first of all linked to the goal of the leaders of Al-Nusra Front and factions allied with it to derail the process of reconciliation," head of the Russian Center for Reconciliation in Syria, Lt.-Gen. Sergey Kuralenko, said in a statement on Monday.
"In the Aleppo region, Al-Nusra Front leaders are finishing forming an assault group totaling over 6,000 militants in order to block the government troops in the city with a strike from the east, while in the north they seek to cut off access to the city of Nubl."
The ceasefire introduced on February 27 does not apply to internationally-recognized terror groups such as IS and Al-Nusra Front, which means strikes can be delivered against their outposts. According to the Center, Al-Nusra is continuing to attack Aleppo using rocket launchers and mortars.
Besides Aleppo, terrorists also revitalized their efforts in the provinces of Latakia and Hama, in addition to the outskirts of Damascus. In Eastern Ghouta and Damascus' suburb of Darayya, Al Nusra fighters and groups aligned with them were able to regroup and reinforce their positions. Terrorist fighters have carried out the "replenishment of ammunition, weapons, and are ready to take on the offensive," said Kuralenko.
The Russian Reconciliation Center proposed the introduction of a 72-hour cease-fire starting Tuesday in areas of Eastern Ghouta and Darayya. At the same time the Russian side called on Washington to use their influence on groups often associated with Al-Nusra to flee the area and join the truce, stressing that Russian aircraft will continue to conduct strikes.
"Once again, we call on the American side to continue [to] work with moderate opposition units it controls to push them towards joining the ceasefire regime, providing [an] exact outline of the areas they control and pulling groups that observe the ceasefire terms out of territories taken by Jabhat al-Nusra and other international terrorist organizations," Kuralenko said.
On Sunday, a statement by the FSA, signed by nearly 30 rebel groups that operate across Syria, some with close ties to terrorists, said that they will no longer abide by a ceasefire deal unless the Syrian army pulls out from the outskirt of Damascus within 48 hours.
"We consider a press statement of the leaders of opposition groups and groups acting under their names dated May 22, 2016 as an attempt to shift responsibility for violation of the regime of cessation of hostilities onto government troops," Kuralenko said.
On Monday, Russian Foreign Minister Sergey Lavrov and US Secretary of State John Kerry discussed the possibility of joining forces to carry out attacks on militant groups breaking the ceasefire in Syria by phone, reported the Russian Foreign Ministry. No conclusion on the potential joint effort was reached.
Efforts to stabilize hostilities in Syria come as over 100 people died after seven blasts targeted several locations in the coastal towns of Jableh and Tartus, Syria's Latakia province. The locations are close to two Russian military facilities: the Khmeimim airbase and the Tartus naval base.
READ MORE: Russia proposes US-led coalition to strike Syrian terrorists with Moscow – def minister
The rise in tensions in Syria follows Friday's warning by Special Envoy for Syria, Staffan de Mistura who stated that the next round of talks, penciled in for June, "will be in question" if the ceasefire is suspended. The negotiations became gridlocked in April after the Saudi-backed Syrian opposition withdrew from the negotiations, citing the deteriorating situation in Aleppo.
You can share this story on social media: