India test launches own prototype reusable space shuttle
Published time: 23 May, 2016 09:49
Edited time: 23 May, 2016 13:46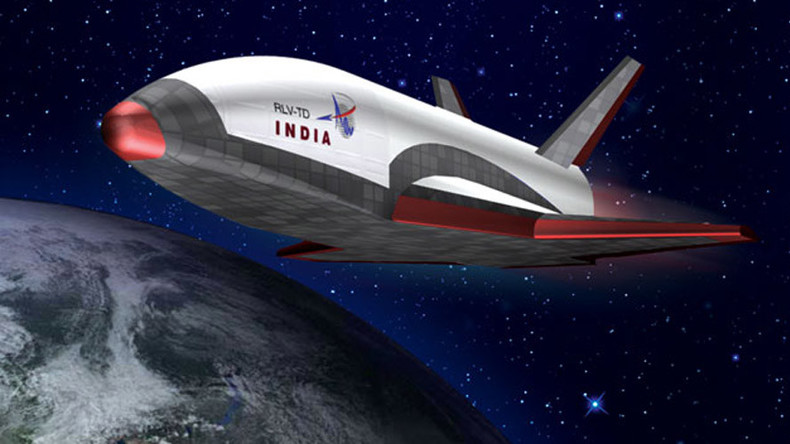 India's space agency has successfully tested a prototype reusable spacecraft. Both the space vehicle and the solid fuel rocket used for the launch are of domestic design.
The launch of the Re-Usable Launch Vehicle - Technology Demonstrator (RLV-TD) was made from a spaceport located at Sriharikota Island in the southeastern Indian state of Andhra Pradesh.
The rocket booster lifted the prototype to an altitude of some 56km, from where it further climbed to 65km. From there, it started descending, re-entering atmosphere at Mach 5 (five times the speed of sound).
Some 12 minutes after the experiment started, RLV-TD splashed down on a "virtual runway" in the Bay of Bengal, disintegrating upon impact with water, as was planned.
"Mission accomplished successfully," reported Indian Space Research Organization (ISRO).
The 6.5-meter long RLV-TD reportedly weights 1.75 tons and looks very similar to the American Space Shuttle. The technology demonstrator is about six times smaller than the final version, the Avatar, that would be constructed by the end of the 15-year program.
"We are designing for the first time a winged body which will come back from space… We will be launching from Sriharikota, and the plane-like winged body will land in the ocean, in the Bay of Bengal. Ultimately, the objective will be this winged body will come and land on the Sriharikota island," ISRO Chairman Kiran Kumar told PTI ahead of the launch.
The rocket booster used in the experiment is described as a 9-meter-long rocket weighting 11 tons, of which 9 tons are solid propellant fuel.
The cost of the RLV-TD program is estimated at 1 billion rupiah ($15 million).
Developing its own reusable space vehicle could save India massively on each space launch. So far, the launch of RLV-TD has been announced as "a very preliminary step" toward India's aspiration to bring down the costs of conquering space.