Egypt deploys sub to search for crashed jet in deep Mediterranean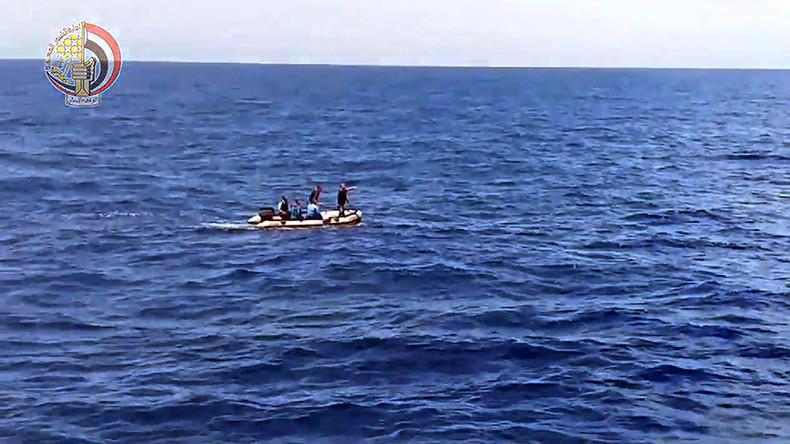 Egypt has deployed a submarine to search for the EgyptAir plane that crashed with 66 people on board in the southern Mediterranean, President Abdel-Fattah al-Sisi said, adding that authorities are working hard to find the plane's black boxes.
FOLLOW EgyptAir flight crashes in Mediterranean LIVE UPDATES
"The search equipment has moved today from the oil ministry, they have a submarine that can reach 3,000 meters under water," Sisi said.
According to the president, the submarine moved on Sunday "in the direction of the plane crash site" and Egypt's authorities "are working hard to salvage the black boxes."
He added that at this stage of the investigation "all scenarios" of plane crash "are possible."
READ MORE: 1st images of EgyptAir wreckage released, reports of smoke onboard confirmed (PHOTOS, VIDEO)
"So please, it is very important that we do not talk and say there is a specific scenario," Sisi said. "This could take a long time but no one can hide these things. As soon as the results are out people will be informed."
EgyptAir Flight MS804 took off from Paris's Charles de Gaulle Airport late at night on Wednesday with 66 passengers and crew aboard. It was bound for Cairo, but disappeared from radar early on Thursday in Egypt's airspace.
On Saturday, the Egyptian army released the first photos of the plane wreckage. The blue panel of the plane, with EgyptAir markings, is clearly visible in the pictures.
On Friday, Egypt's authorities said they had so far found human remains and plane wreckage floating in the Mediterranean about 290 km north of Egypt's port city of Alexandria.
However, a civil aviation official told AFP that rescue teams had found no bodies.
Egyptian authorities and the airline urged people to refrain from drawing premature conclusions after several aviation experts and intelligence services worldwide said they believed a terror attack was more likely than a technical failure.
On Saturday, France's BEA air accident investigation agency told the media that smoke was reportedly detected on board the EgyptAir plane before it crashed in the southern Mediterranean.
The information on the smoke was also released by the Aviation Herald website, which reports daily about incidents and critical situations in civil aviation companies. According to the outlet, the smoke was detected in the bathroom.