EgyptAir MS804: The theories behind the crash and what we know so far (VIDEO)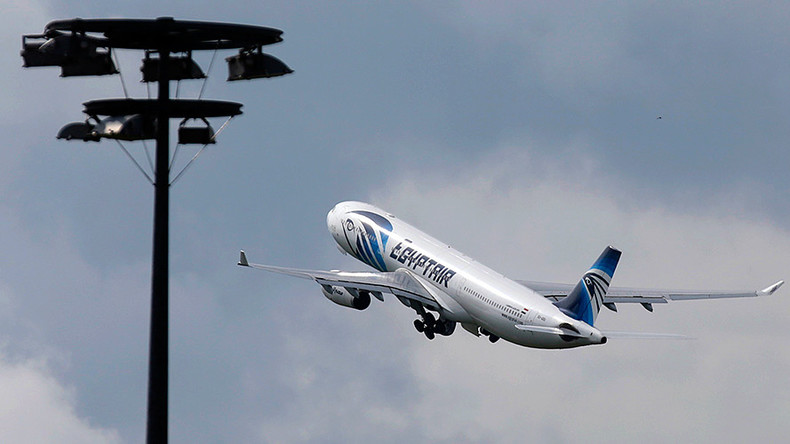 As wreckage from the crashed Airbus A320 continues to be gathered and information on what happened on that fateful flight begins to be pieced together, we take a look at what we know so far about EgyptAir flight MS804.
When and where?
Flight MS804 departed from Charles de Gaulle Airport, Paris, at 11:09 p.m. local time (2109 GMT) on Wednesday and was expected to arrive in Cairo, Egypt by 3 a.m. Thursday. A direct flight between the two capitals usually takes around four hours.
At 11:24 p.m., the plane entered Greek airspace. According to Greek civil aviation authorities, the air traffic controller who communicated with the flight said the pilot appeared to be in good spirits.
Just over an hour later, however, the flight failed to answer calls from Athens air traffic control. Shortly after this radar contact was lost with the plane, some 170 miles from the Egyptian coast.
Search and rescue teams were deployed when Flight MS804 failed to make its scheduled landing at the Cairo airport at 1:15 a.m.
Final movements
In a statement from the Greek Defence Minister, data from the Greek air traffic controllers indicate the plane made erratic movements in its final moments.
The EgyptAir flight first turned 90 degrees left before plummeting, according to the statement, then turned 360 degrees to the right and fell a further 15,000 ft. It was lost from their system at 10,000 ft.
Debris
French and Egyptian ships are focusing their recovery efforts on an area in the Eastern Mediterranean where the flight is believed to have crashed.
On Saturday, Egyptian military released the first images of debris found from the plane. The black boxes have not yet been recovered, but US intelligence sources told CBS News that they have been located by their pings.
Human remains have also been recovered, according to officials.
The passengers and crew
Flight MS804 was carrying 66 people at the time of its disappearance: 56 passengers, seven crew and three Egyptian in-flight security personnel.
Of the passengers, 30 were Egyptian, 15 French and two Iraqi, with one from each of Algeria, Belgium, Britain, Canada, Chad, Kuwait, Portugal, Saudi Arabia and Sudan.
The pilot, Mohamed Saeed Shaqeer, 36, was described as a "highly disciplined captain" with a "good reputation" by EgyptAir Vice President Ahmed Adel. Shaqeer had over 6,000 hours of flying time.
An airport official speaking to the New York Times said the idea that the plane was downed by a pilot was "preposterous."
Why were security personnel on board?
The three security personnel onboard included one more than the standard two per flight on EgyptAir, which has been credited to a trainee being onboard. Unarmed and dressed in an understated uniform, their primary role would have been to help the crew with any unruly passengers.
Egyptian aviation minister says two security personnel were accompanied by trainee officer on board #MS804 : standard procedure

— Quentin Sommerville (@sommervillebbc) May 19, 2016
Outside of Europe, the onboard security team would also have been responsible for carrying out security searches on cleaning crews coming onboard during stopovers. This would not have been the case in Charles de Gaulle, though, where European restrictions prevent them having this authority.
The inclusion of in-flight security was one of several measure taken by EgyptAir in recent years in response to political turmoil in the country, along with added searches and firing staff with alleged sympathies for the Muslim Brotherhood.
Speaking to the New York Times, EgyptAir security officials recalled an incident two years ago when graffiti was sprayed on flight MS804 at Cairo airport reading "We will bring down this plane" in Arabic.
The officials suspected it was the work of aviation workers at the airport, unhappy with the military ousting of former president Mohamed Morsi in 2013.
Smoke alarms triggered
Data from the Aircraft Communications Addressing and Reporting System (ACARS) revealed smoke alarms went off in two separate locations on the plane three minutes before contact was lost. In the space of a few minutes, according to the ACARS data, the cockpit window overheated followed by smoke in a lavatory and a bay underneath the cockpit.
So what happened onboard?
Speaking to the BBC, Philip Baum, editor of Aviation Security International magazine, said the smoke indicated by ACARS would indicate that the it "probably wasn't a hijack, it probably wasn't a struggle in the cockpit, it's more likely a fire on board."
READ MORE: 'Let's not jump to conspiracies': Egypt's minister warns against speculating about MS804 crash

Sebastien Barther from France's Bureau of Investigations and Analysis told AP that although the data from ACARS would generally indicate a fire, "we are drawing no conclusions from this. Everything else is pure conjecture."
Terrorism was suspected in the immediate aftermath of the crash. Egyptian Minister of Civil Aviation Sherif Fathy told a press conference on Thursday, prior to any debris being retrieved, that a terrorist attack "was more likely" despite also warning people not to draw any premature conclusions.
An Australian civil aviation expert, Geoffrey Thomas, told RT that the security system at Charles de Gaulle was good, but not impenetrable: "The one thing what the industry does fear is the 'inside job' when you have an airport worker who might be associated with some groups."
"There's always a possibility that something is smuggled on board."
No organization has claimed responsibility for the crash.
You can share this story on social media: