German police pepper-spray parliament VP, while protecting far-right rally from leftist activists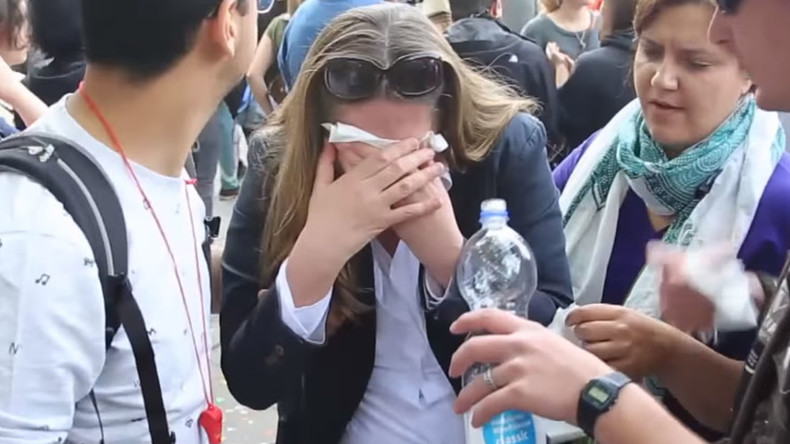 The vice president of Lower Saxony's regional parliament, Gabriele Andretta, was among demonstrators pepper-sprayed by the German police during clashes in the town of Goettingen.
Over 500 leftist activists gathered near the town's central station to picket a far-right rally that was scheduled to take place later on Saturday.
The counter-demonstration was called by the Goettingen branch of "Alliance Against the Right." The participants of the leftist anti-fascism rally were chanting "Go away! Go away!" as police tried to prevent clashes between the parties.
The right-wing rally was organized by the "Freundeskreises Thüringen/Niedersachsen" (Circle of friends of Thuringia/Lower Saxony) group under the slogan "Future for Germany – counter left violence."
Violence broke out when the protesters attempted to break through riot police lines in an attempt to occupy the square in front of the station.
Around 1 am local time, a group of partially masked protesters broke through police cordons while hurling firecrackers and stones at law enforcement, German Focus magazine reported.
Security forces responded with pepper spray, hitting, among others, Gabriele Andretta, vice-president of Lower Saxony's parliament and member of Germany's Social Democratic Party, the country's second largest.
At least two people, including Andretta, were injured in the clashes, and police made 15 arrests, Goettingen Tagesblatt reported.
After the brief escalation, the rally resumed peacefully. Attempts to stir up violence among the left-wing protesters were quashed thanks to the timely intervention of the organizers of the Alliance's demonstration, police reported.
The right-wing "vigil," which gathered only around 50 participants ended, around 3 pm, while the counter-demonstration dissolved an hour later.
On its official Facebook page, the far-right "Friends" hailed the event as a success, while expressing gratitude to the activists and the police.
Another far-right rally in Rome was also met by counter protesters on Saturday, but violence was avoided in the Italian capital.
READ MORE: 'This is my home': Thousands gather for anti-migrant rally in Rome (PHOTOS, VIDEO)
Clashes between right-wing protesters and pro-refugee demonstrators have become a frequent sight across Europe, with tensions often flaring due to unprecedented levels of migration into the EU.