'Object with green lights': Turkish pilots claim they saw UFO near Istanbul airport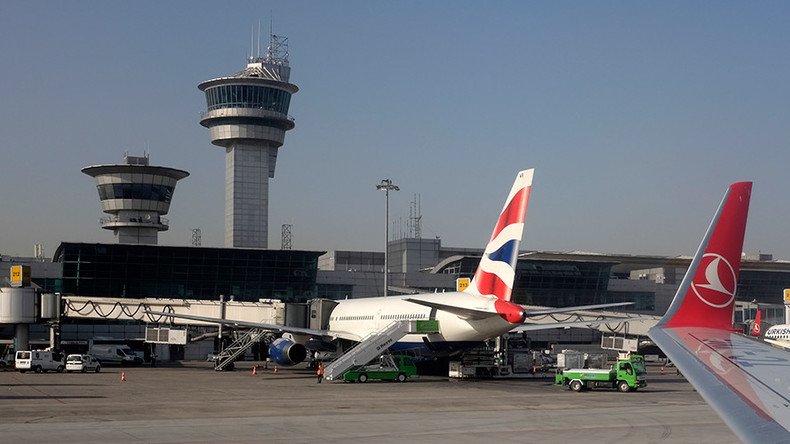 It looks like the area near Istanbul airport has become the newest alien-sighting site – two Turkish pilots claim they saw a suspicious unidentified object, apparently a UFO, with green lights which passed over their plane.
The "flying-saucer incident" took place around Silivri district of Istanbul on Thursday. The plane heading from the western Turkish resort town of Bodrum to Istanbul was flying at around 5,100 meters at the time of the sighting.
"An unidentified object with green lights passed 2 to 3,000 feet (600 to 900 meters) above us. Then it disappeared all of a sudden. We are guessing that it was a UFO," the two pilots told the Air Traffic Control Center at Istanbul's Atatürk Airport, as cited by Hürriyet Daily News.
They landed at Istanbul Atatürk Airport, the biggest airport in Turkey, around 30 minutes later.
READ MORE: UFO Ohio? Black 'flying saucer' captured in eerie footage (VIDEO)
In the meantime, the General Directorate of State Airports Authority told Hürriyet Daily News that it did not spot any object on the radars which resembled the one described by the pilots.
The incident caught attention of the UFO Sightings Daily, an alien-aficionado website devoted to possible UFO sightings. The site failed to get a photo of the alien object as it usually does. However, it praised the brave pilots who "came out and talked about what they saw in the sky."
READ MORE: Ancient burial ground? Mars Rover's bizarre photo excites alien enthusiasts
"Many pilots are scared to talk about it due to ridicule and worry that their job security would be called into question. You can't get a more experienced expert at UFO than a pilot himself," Scott C. Waring, the site's editor wrote.
You can share this story on social media: