Europe realized isolating Russia is 'failed policy' – Russia's envoy to NATO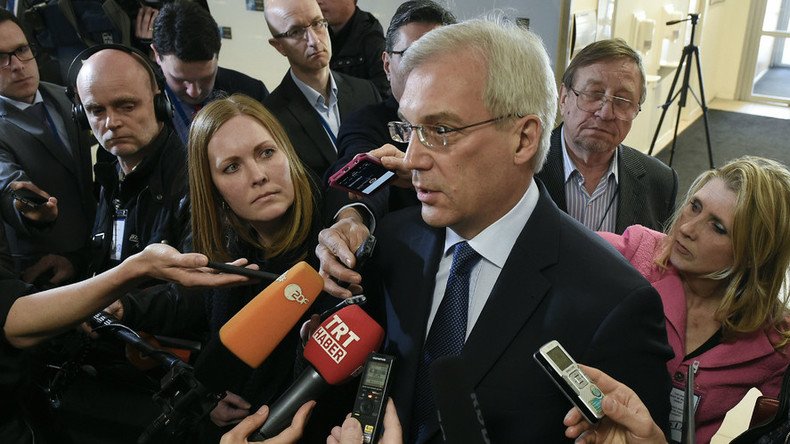 Europeans have come to know that the policy of isolating Russia "has failed," as external threats showed need for close cooperation, Russia's envoy to NATO said. He doubted NATO's diplomatic facade, reminding that the block's policy is focused on rival Russia.
"Many Europeans are starting to realize that a policy of isolating Russia has failed, that common threats demand united efforts based on true cooperation, that the same states [NATO members] are cooperating with us on key security issues outside the Russia-NATO format," Moscow's permanent representative at the alliance, Aleksandr Grushko, told journalists after NATO foreign ministers' meeting in Brussels.
Grushko stressed that NATO's seesaw approach to Russia – trying to pursue deterrence and dialogue at the same time – will only hurt the alliance's own interests.

"It is clear that if NATO continues to implement policies announced at the 2014 Wales Summit, it will hurt the Alliance's own interests," he said.
The diplomat explained that NATO cannot combine its military deterrence policy, such as strengthening the eastern European flank and enhancing military exercises with calls for confidence-building and dialogue.

Grushko's comments come as NATO continues to ignore Russia's concerns over its expansion and military build-up in Eastern Europe.

NATO-Russia format was established in 2002 under the NATO-Russia Council (NRC), with the goal to reduce tension and resolve differences between Moscow and the military alliance.

The work of the council was suspended in 2014 by NATO, as a response to the Ukrainian crisis, which plunged relations with Russia to their worst level since the Cold War, cutting off all practical cooperation. Last month, the NRC convened again for the first time in nearly two years, but little progress was achieved at the meeting.
Grushko noted that nothing has really changed in NATO's approach to Russia since 2014, adding that alliance seems to require a big adversary in order to exist.

"For now, one can say with all certainty that NATO is moving, in terms of politics and militarily, in the direction of containing Russia, and, considering everything, the alliance cannot exist without a major geopolitical rival," Grushko said.

While NATO maintains its expansionist military approach, true cooperation cannot exist, the Russian envoy stated. "Trust-building measures, risks reduction, will be key issues under consideration if new consultations on viability of future Russia-NATO Council meetings begin," Grushko said.

The envoy called for a qualitative review of NATO relations with Russia, which would involve the alliance dropping its deterrence position toward Russia.

The ministers will be holding a new Russia-NATO Council meeting before the NATO Warsaw Summit in July.
You can share this story on social media: