Ukrainian witch-hunt website reopens, responds to criticism by leaking more journalists' data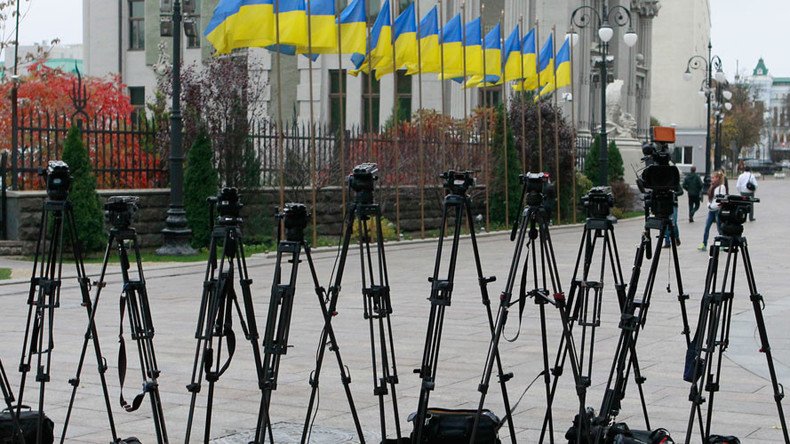 A controversial Ukrainian website, which was condemned by many international organizations for leaking personal information about more than 4,000 journalists who reported from eastern Ukraine, responded to criticism by expanding the list with some 1,400 new names.
"After our publication, we saw strong public interest in the list. Many journalists demanded apologies and now we finally realize why. Our staff sincerely apologizes because the list we published is quite out of date," the website said in a taunting statement.
The website, called Mirotvorets (Peacemaker), sparked international outcry last week when it published the personal data of thousands of journalists who have worked in eastern Ukraine in the past two years. The data was said to be obtained by "patriotic hackers" who stole it from computer networks of the de facto Donbass authorities.
People working for dozens of media outlets, including AP, AFP, Reuters, BBC, CNN, CCTV, Al Jazeera, RT, Deutsche Welle, the New York Times, Vice News and others were exposed by the leak. The publication was criticized by media professionals, journalists' trade unions and political organization, including the OSCE and the EU.
Amid an international outcry, Kiev launched a criminal investigation into alleged violations of privacy. The website was shut down last Friday, only to reopen on Thursday this week. Its patron, Anton Gerashchenko, a Ukrainian MP and aide to the interior minister, commented on the revival by citing a maxim by German philosopher Friedrich Nietzsche. "What does not kill me, makes me stronger," Gerashchenko wrote in English.
The MP earlier demanded that the criminal investigation against the website be closed and called for the resignation of the Ukrainian human rights ombudswoman, Valeria Lutovskaya, who is playing a key role in the Ukrainian campaign against Mirotvorets.
The website's purported goal is to fight separatism and terrorism and it publishes personal data of anyone its contributors consider enemies of Ukraine. At least two Ukrainian public figures were killed days after their home addresses were leaked by the website.
You can share this story on social media: