US man arrested in connection with young Japanese woman's death in Okinawa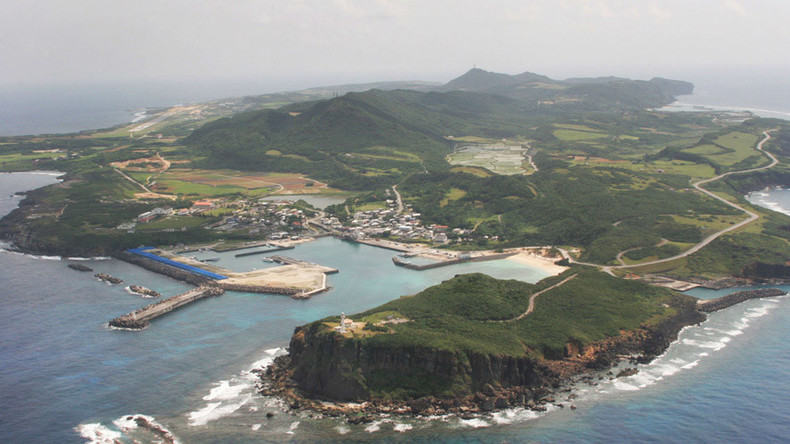 An American civil employee of the US military base in Okinawa has been arrested for his alleged involvement in the death of a 20-year-old woman who disappeared in April.
The 32-year-old American citizen, Kenneth Shinzato, was detained on suspicion of disposing of the missing woman's body. He was questioned and arrested after police found the woman's corpse at a location he had provided, AP reports.
The young woman, Rina Shimabukuro, went missing on April 28, according to Kyodo. The last person to speak to her was her boyfriend, who told police she had gone for a walk that night, never to return.

Police believe she was involved in a car accident or a crime, seeing as she had left both her car and wallet at home. She did take her mobile phone with her, however, and its GPS showed her last known location in an industrial area, according to sources speaking to the news agency.

Her body was discovered in a mountainous region in Okinawa Prefecture on May 19 after a search that also involved locals.
Shinzato ended up on the suspect list, as his car was in the area around the time Shimabakuro's location was last pinged. He was asked by police to submit his car for inspection.

During questioning, he admitted to abandoning Shimabukurio's body, but did not indicate whether he had killed her, Reuters reports. Police suspect that Shinzato is also responsible for the woman's death, although he has not been formally charged with murder, AP reports.

The suspect lives off-base in the Yonabaru township of Okinawa Prefecture, according to NHK. He works at Kadena Air Base and is believed to be a former US Marine, according to Kyodo. The US Department of Defense defines him as a US military contractor.

"This is an appalling tragedy," US defense spokesman Peter Cook said while commenting on the incident, as quoted by AP, adding that the US military expresses its "deepest sympathies to the people of Japan, and express our gratitude for the trust that they place in our bilateral alliance and the American people."

US State Department spokesman John Kirby also expressed his condolences and said that US authorities are closely monitoring the case.

"This is a terrible tragedy and it's obviously an outrage. We're treating this situation with the utmost seriousness," he said during a news briefing.
In the meantime, Japanese Foreign Minister Fumio Kishida summoned US Ambassador Caroline Kennedy to lodge a protest.

"I expressed a strong regret to Ambassador Kennedy and lodged a stern protest. I told her an incident like this is inexcusable and that I feel strong indignation," Kishida told reporters after the meeting.

Kennedy assured Kishida that the US would make every effort to prevent similar incidents from happening in the future and offered condolences over the woman's death.

The Thursday arrest provoked a wave of public outrage in Okinawa, where anti-US military sentiment already runs high due to the heavy US troop presence there and an ongoing issue concerning the relocation of the US' Futenma air base, which has stalled because of the massive public protests.

Okinawa governor Takeshi Onaga said he was "outraged" by the woman's death, saying it left him "speechless." Onaga is heading a public movement opposed to the relocation of the Futenma base and is pushing for the complete withdrawal of the US military from Okinawa.
Another incident involving the US military's presence in Okinawa occurred in 1995, when a 12-year-old Japanese schoolgirl was raped by three US servicemen, sparking huge protests among local residents.
Long a subject of controversy at home and in the region, the island of Okinawa is home to several prominent US bases that host more than half of about 50,000 American troops based in Japan, who make up the bulk of the US military's deployment in the region. Many Okinawans associate the bases with crime, pollution, and noise.

This latest incident comes just a week before US President Barack Obama is set to travel to Japan for a Group of Seven summit.

Obama will also visit Hiroshima, where America dropped a nuclear bomb that killed 140,000 people, becoming the first acting US president to do so. Accompanied by Japanese Prime Minister Shinzo Abe, Obama will give a speech at Hiroshima Peace Memorial Park on May 27 to highlight "his continued commitment to pursuing the peace and security of a world without nuclear weapons," according to the White House.

However, Obama will not offer an official US apology for the devastating bombings of Hiroshima and Nagasaki.

Deputy National Security Adviser for Strategic Communication Ben Rhodes says Obama "will not revisit the decision to use the atomic bomb at the end of World War II. Instead, he will offer a forward-looking vision focused on our shared future."