Up in arms: Bavarians seek non-lethal weapons en masse amid refugee crisis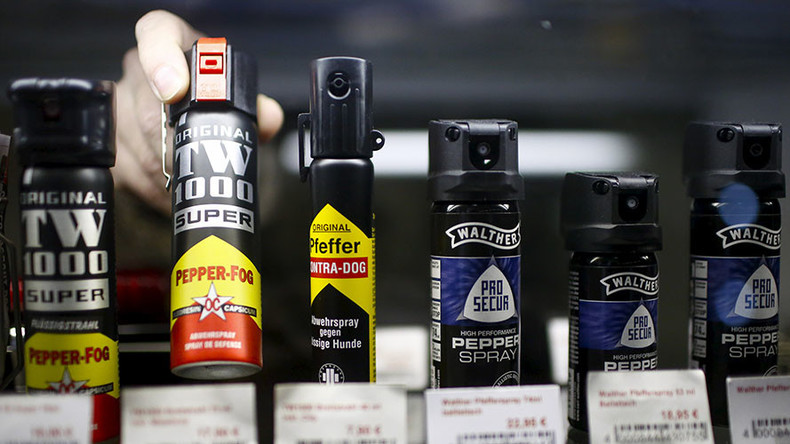 The number of people applying for licenses for non-lethal weapons licenses in the German state of Bavaria has been significantly on the rise – something seen to be caused by the unabated influx of refugees, raising fears among the locals.
The latest data suggests small non-lethal weapons, including pepper spray and gas pistols, have sharply gained popularity among Bavarians.
The first three months of 2016 have seen a doubling in applications for non-lethal firearm licenses, the Interior Ministry said in response to a parliament inquiry filed by the Green Party, München.tv reported.
While in 2014 there were 2,370 licenses issued in Bavaria, in 2015 the figure rose to 5,748, the ministry's statistics show. In February, the number surged to 7,435, and in March, there were 4,677 license applications.
"The booming rise of licenses for non-lethal weapons is very concerning," Katharina Schulze, interior affairs spokesperson for the Green Party in Bavaria, told Die Welt.
"We don't need the people in Bavaria to arm themselves. Possessing arms and practicing vigilante justice are not an example we want to set."
Politicians such as Schulze fear there is a danger that "more conflicts will escalate" if people have more guns, and have urged alternatives to prevent the situation worsening.
As of end of March, there were 66,245 non-lethal weapons registered in Bavaria, the Interior Ministry report said, saying that gas and traumatic weapons should not be regarded as harmless, since there are numerous cases of serious injuries and even deaths.
"Gun laws in this regard are too lax. Guns don't belong to our society, just like knives, batons and knuckle dusters don't," Schulze said.
Though the media furor around the refugee crisis is on the rise, the crime rate in Bavaria has not increased, according to crime statistics cited by München.tv. On the contrary, crimes in Bavaria had fallen by 9 percent in 2015, compared with 10 years ago.
There have been no reports on the rising numbers of licenses issued for firearms, since German laws for lethal weapons are much stricter.
After the reports of alleged mass sexual assaults on New Year's Eve in Cologne, demand for pepper spray, stun guns and gas pistols has increased, according to Deutsche Welle. The number of women taking up self-defense classes has also risen.
You can share this story on social media: