'Coup took place in Brazil': Film crew stages red carpet pro-Rousseff protest in Cannes (VIDEO)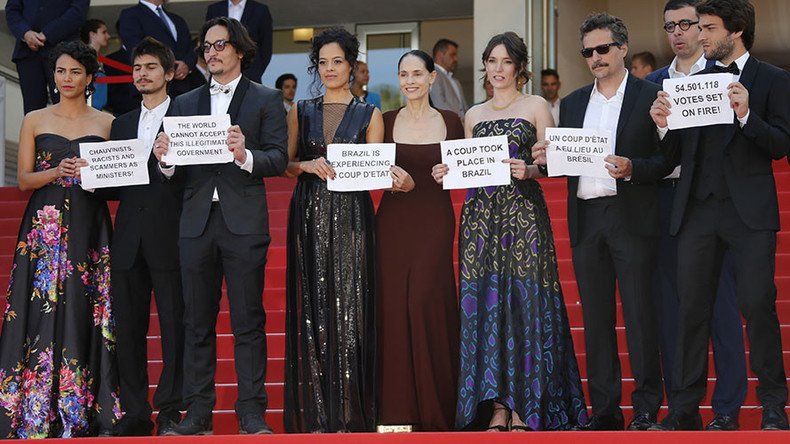 The cast and crew of the Brazilian film Aquarius have staged an improvised protest on the red carpet of the Cannes competition in the south of France to show support for unseated President Dilma Rousseff, denouncing her suspension as a 'coup d'état.'
Kleber Mendonca Filho, the film's writer and director, Sonia Braga the lead actress, and a number of other members of the cast and crew unveiled a selection of printed banners on the steps of Palais des Festivals ahead of their film's Tuesday premiere.
The crew decried the impeachment of Brazilian President Dilma Rousseff with banners reading "A coup took place in Brazil," "The world cannot accept this illegitimate government," among other slogans, while another claimed that more than 54 million votes of the Brazilian people had been "set on fire."

READ MORE: Globo behind coup? Brazil president's supporters blame impeachment on media
The political act at the cultural event was met with applause, with support for the film crew being expressed not only outside the festival venue, but also by attendees inside, where an even bigger protest was on display.
Before the screening, people in the audience held up similar banners, some reading "We will resist."
Brazil's president, who has been put on trial for allegedly mishandling her country's budget, thanked the cast on Twitter, calling their support "a kiss in the name of democracy."
The film itself tells the story of a retired music critic and intellectual who faces losing her home when a property company buys the apartment building she lives in with plans to demolish it, and is generally not political in nature. However, some have suggested that Aquarius is a metaphor for the country, as Brazil has plunged into a deep political crisis since its first female president was suspended from office in what many see a "coup" orchestrated by the country's rich elites.
You can share this story on social media: