Russian opposition figure Navalny hit, fellow activist injured in mass brawl with 'Cossacks' (VIDEO)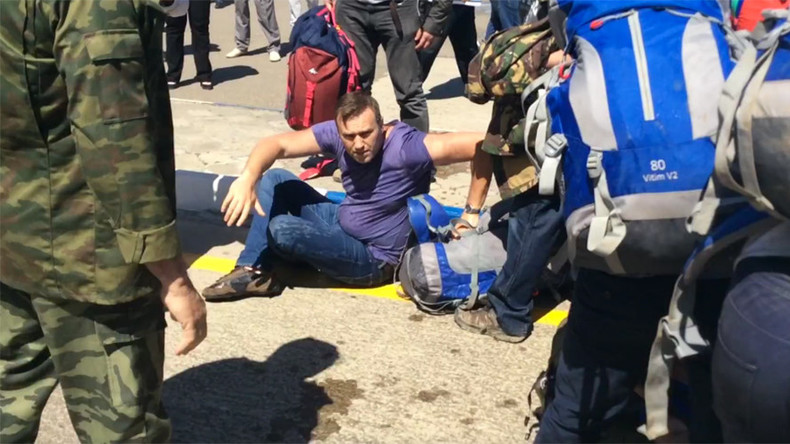 Anti-corruption activist Aleksey Navalny has been hit and at least one of his associates injured in a mass brawl at Anapa Airport on Russia's Black Sea coast. The fight began when Navalny and his team had milk thrown at them on their way to the terminal.
"There were around 30 attackers," Navalny, a prominent anti-corruption blogger and opposition activist, wrote on Twitter on Tuesday. Two policemen intervened, Navalny added, suggesting that the number of officers who tried to break up the fight was too small, considering that the incident happened at an airport.
The press secretary of Navalny's Anti-Corruption Foundation, members of which were with the activist on his visit to the Krasnodar Region, said that law enforcement "only interfered after Artem [Torchinsky] was struck down to the ground and kicked."
The man was hit in the temple and later taken to the hospital.
"They told us, 'Get away from our land' and were ready to beat people for that," Torchinsky told the Dozhd (Rain) TV channel. He added that the attackers were "dressed in Cossack uniform."
Meanwhile, Anapa's regional Cossacks society told RBC that people who attacked the Navalny group at the airport "were not Cossacks," and added that police were now looking for them. "Cossacks are those who can be seen in the video wearing black uniform... they tried to break up the fight," Ivan Petrov of the Cossack society told RBC, adding that it were unidentified people "in camouflage" who were aggressive.
Dmitry Slaboda, a photographer for the Cossacks who filmed the incident, told Govorit Moskva radio that the fight had been provoked by Navalny's supporters. A group of Cossacks "did not plan to attack, but only wanted to throw milk," the man claimed, adding that the fight only started after one of the men from Navalny's foundation group "hit an elderly Cossack with his elbow."
Police have launched an investigation into the incident.