Fake 'ISIS pirate raid' stunt freaks out Cannes film festival guests (VIDEO)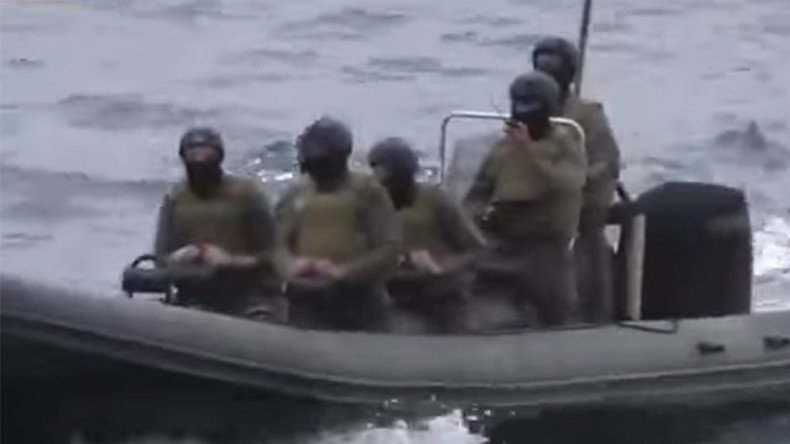 International movie celebrities were nearly scared to death by a failed PR stunt staged by an internet company, which hired fake Islamic State looking commandos to make a sea landing at a hotel where the stars are staying during the Cannes Film Festival.
Guests at the five-star Hôtel du Cap-Eden-Roc said that men dressed as "ISIS-like" (Islamic State formerly ISIS/ISIL) terrorists and flying a black flag resembling the jihadists' banner approached on a speedboat before docking at the resort harbor.
The landing at the French Riviera resort, which several Hollywood stars were using as a hideaway during the Cannes film festival, caused a number of VIP guests to panic, police said on Saturday.
"We were caught off guard," American publicist J.R. Savet told the Hollywood Reporter. "And then someone screamed and people jumped out of their chairs and started moving quickly to the swimming pool."
"It was pretty scary. The fact that men appeared to be dressed like an ISIS-like militia group was quite shocking," he added.
"A helicopter and men with suicide vests and a fake ISIS flag pulled up by boat on the water in front of the Hotel du Cap's Grill restaurant," another witness told the Page Six website. "Nobody knew if it was a stunt or not. Some people were panic-stricken."
After the incident, police explained that the speedboat landing had been part of a PR campaign being run by the Paris-based internet company Oraxy, which caters to the rich and famous.
A spokesperson for Oraxy, the "world's first private global marketplace reserved… for Ultra High Net Worth Individuals," confirmed to the Hollywood Reporter that the whole thing had been a publicity stunt, claiming that they had coordinated with maritime authorities.
Prior to the hotel landing, a police spokesman said the "commandos" involved in the hoax had tried to breach a sea exclusion zone around Cannes, but were diverted by security teams.
According to reports, the speedboat had passed by the yachts of Hollywood director Steven Spielberg and Russian billionaire Roman Abramovich earlier. After that, the crew of the PR boat decided to head for the hotel.
Paramilitary gendarmes seized the vessel after it docked, but none of the crew members were formally arrested.
"These men know that they have really overstepped the mark and today they feel ashamed," a police spokesman told AFP.
Following the scare, an anonymous justice official told AFP that the company is "likely to pay very dearly," for its practical joke and could be prosecuted for violating maritime law and causing "psychological trauma."
The start-up company has apologized for the PR stunt, saying it hadn't intended to scare people.
"It was not about scaring people, and it was definitely not planned to look like a terrorist attack," a spokeswoman for the company told THR. "If they scared people, they feel very badly about it. They did not mean for people to take it that way."
Cannes is on high terror alert for the 12-day film festival, with thousands of security officers deployed in the city, while a warship patrols the bay and snipers are posted on rooftops.
Coincidentally, the exploit took place on the first Friday the 13th and exactly six months since the bloodshed in Paris on November 13, which killed 130 people.
It was reported in April that Islamic State could be planning terrorist attacks on resorts in southern Europe, including those in France, Italy and Spain, which would most likely be carried out by suicide bombers disguised as beach vendors. In June of 2015, a gunman allegedly linked to IS opened fire on a beach in Sousse, a popular Tunisian resort area, killing 38 people and injuring dozens.
You can share this story on social media: