Italian right wing seeks referendum to overturn gay union recognition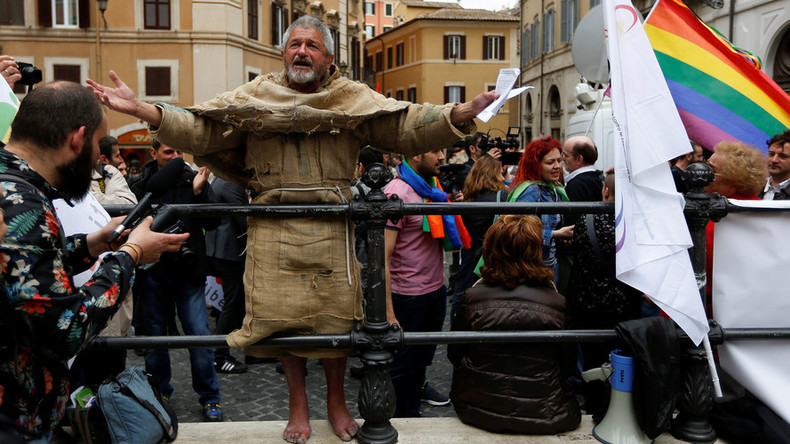 A group of mainly right-wing politicians have announced they are seeking a referendum to overturn the introduction of gay civil unions in Italy. It comes just one day after the law was approved by parliament, prompting praise from gay rights activists.
Lawmakers consisting of former Italian Prime Minister Silvio Berlusconi's Forza Italia party, the far-right Northern League, and several other factions said they would begin work to raise the 500,000 signatures required to force a referendum as soon as the new law is signed by President Sergio Mattarella.
If the signatures are collected, they will have to be verified by the Court of Cassation. The Constitutional Court must then approve the validity of the proposed ballot question.
Read more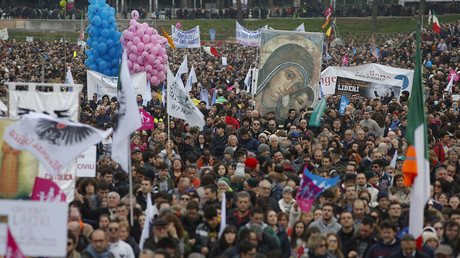 From there, opponents of the new legislation would have to win a referendum in which at least 50 percent plus one of all eligible voters cast a vote. If that requirement is not met, the referendum result is invalid.
However, a referendum seems unlikely to succeed, and a vote to overturn the legislation would be legally complicated as the first civil unions are expected to take place this autumn, before any potential referendum would be organized.
Furthermore, opinion polls suggest the majority of Italians support the new law, which introduces civil unions for the first time but denies homosexual couples equal adoption rights.
Carlo Giovanardi, a member of the Italian senate and one of the most prominent opponents of the legislation, said the referendum was a means of protest at the way the legislation was pushed through parliament, and that it is not motivated by homophobia.
"We are not against the recognition of rights but we are resorting to a referendum because (Prime Minister Matteo) Renzi prevented us from amending and debating the law," he said, as quoted by AFP.
Giovanardi's comments reference a controversial tactic used by the Renzi government to push the law through. Renzi called two confidence motions to do so, saying it was "unacceptable to have any more delays after years of failed attempts." The move prompted allegations of authoritarianism.
Knowing that a majority in the confidence vote was almost certain, Renzi declared Wednesday a "day of celebration for those who finally feel recognized," even before the law was officially passed.
The passage of the new law makes Italy the last major Western European country to recognize civil unions for same sex couples. The proposed legislation was long protested by the center-right and the Catholic church, which is seen as a major influencer in the country.