'Democracy, where are you?' Clashes erupt after French govt forces through labor law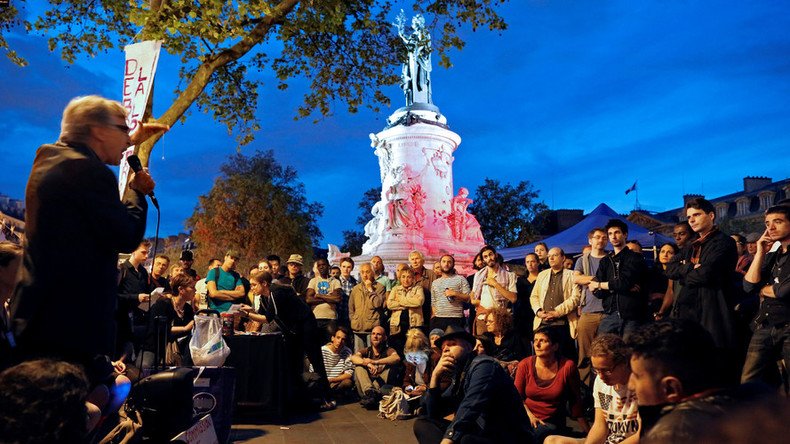 Thousands took to the streets of major French cities, after the Socialist government bypassed a parliamentary vote on a controversial labor reform and approved it with an edict. Sporadic clashes erupted with police who used pepper spray against protesters.
The crowd gathered outside the National Assembly building in Paris held placards reading "Democracy, where are you?" and earlier quotes from President Francois Hollande condemning the very article of the constitution used by his government on Tuesday.
'France must move forward': Govt imposes controversial labor reform by decree, despite opposition
Earlier that afternoon, inside the lower chamber of parliament, Prime Minister Manuel Valls said he was invoking Article 49.3 of the constitution "to move France forward," and put an end to "political posturing from an obstructionist minority."
As more and more activists streamed in from parts of the French capital, a heavy police cordon surrounded the National Assembly. Activists claimed on social media that police had been using tear gas, and preventing new demonstrators from joining in the swelling the crowd.
While the central protest was organized largely online, and by the upstart Nuit Debout, a months-old grassroots movement in the mold of Occupy, and embodying the student spirit of the 1968 protests, elsewhere, unions were out in force.
Members of the CGT union, which represents railway industry workers, marched from Montparnesse station brandishing red flares.
"Today, the employers and the government, want to lower our individual rights," Gilbert Garrel, the CGT general secretary told RT.
The labor reform, proposed by a desperately unpopular Socialist government in the face of 10 percent unemployment, allow employers to unilaterally extend the much-vaunted 35-hour working week, loosens redundancy conditions, and restricts the power of unions.
Protests against the reform, and the use of Article 49.3, which was last applied over a year ago, flooded social media, showing mass protests in Toulouse, Grenoble and Lyon.
You can share this story on social media: