2mn-strong 'Immortal Regiment' marches across the globe to pay tribute to WWII heroes (MAP)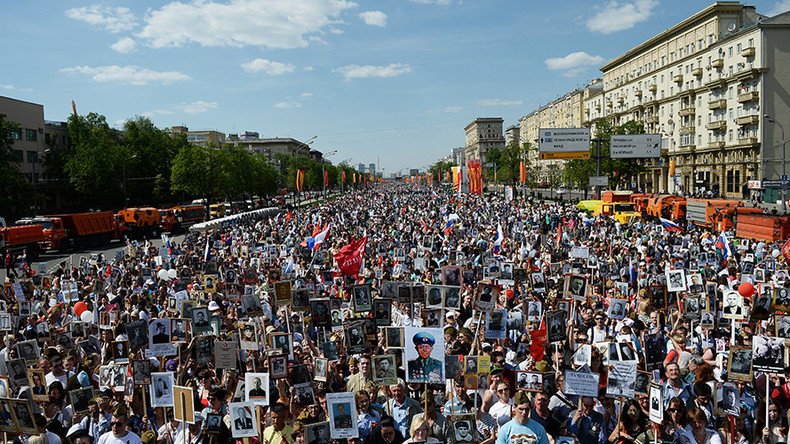 In an unprecedented global Victory Day event, over two million people across dozens of countries participated in 'Immortal Regiment' marches, carrying portraits of loved ones who sacrificed their lives for the victory over Nazism in World War II.
The global event which commemorated the fallen heroes took place in 42 countries across the globe. During the event people carried photographs of their ancestors who participated in the war with one message in mind: missed but never forgotten.
READ MORE: Battle-tested hardware, jets over Moscow & female officers: Best moments from V-Day parade (VIDEOS)
The processions attracted millions across all major continents as relatives of WWII heroes publically recalled the brave sacrifices of their relatives and expressed eternal reverence for lives they had saved at the expense of their own.
From Sydney to London, New York and San Francisco, the Immortal Regiment marched from May 7 through May 9. The list goes on: Tajikistan, Austria, Latvia, Estonia, Malta, Kyrgyzstan, and Kazakhstan, and Switzerland are just a few countries where the Soviet Soldier was remembered in a symbiotic triumph of generations.
In Moscow, Russian President Vladimir Putin headed the march where he walked shoulder to shoulder alongside hundreds of thousands of other Russians. The president carried a picture of his father, Vladimir Spiridonovich Putin, who defended the USSR and Europe from the Nazis.
No matter where in the world the people marched, the procession, often to the amazement of the locals, was accompanied by songs from the WWII period and people wearing St. George's ribbons and elements of 1940s Soviet military uniforms.
READ MORE: 'Immortal Regiment' marches pay tribute to WW2 heroes worldwide (PHOTOS, VIDEOS)
The history of the 'Immortal Regiment' action dates back to 2007 when a parade of victors took place in the Siberian city of Tyumen. By 2013, the Regiment spread to 120 cities. The Immortal Regiment march officially became an all-Russian public action in 2015, to honor more than 27 million Soviet people who lost their lives in the Great Patriotic War.
You can share this story on social media: