Nationalists disrupt Victory Day celebrations in Ukraine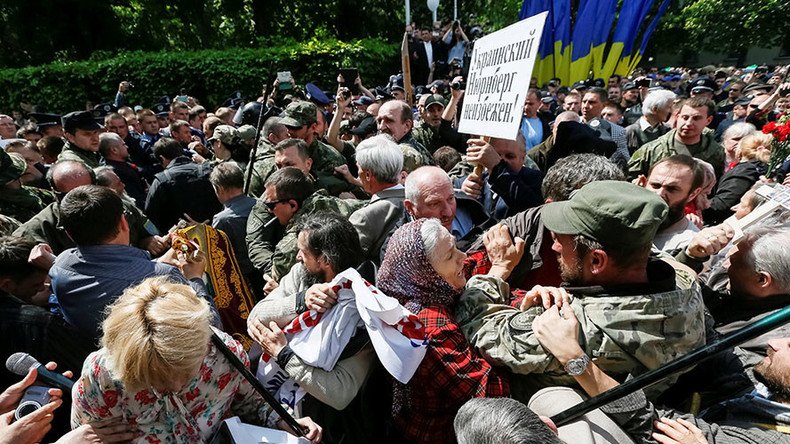 Right-wing nationalists disrupted Victory Day celebrations in several Ukrainian cities, as hundreds commemorated loved ones who had died in WWII.
Medal-bearing veterans and relatives of deceased war heroes paraded through the streets of Kiev joining the global 'Immortal Regiment' initiative, chanting "Fascism will not pass" and carrying flowers to lay them at the Eternal Flame monument to mark the 71st anniversary of the victory over Nazi Germany in World War II.
The march was interrupted by right-wing activists waving Ukrainian Insurgent Army (UPA) battle flags when the procession arrived at Kiev's Park of Eternal Glory.
Screaming "hang communists from a tree" and some anti-Russian slogans, right-wingers tried to disrupt the event with one activist attempting to burn a St. George Ribbon, the symbol of the Soviet Army's contribution to the defeat of the Nazis, after reportedly having snatched it from one of the participants of the Immortal Regiment. A mild scuffle followed after police stepped in and made several arrests, according to reports.
Local media reported further scuffles, with one of them even resulting in tear-gas having been sprayed.
Celebrations were also disrupted in Kharkov as nationalists clashed with participants of the procession at the Memorial of Glory.
Clashes broke out after several people holding Ukrainian flags tried to block the path of those marching to the Eternal Flame. Police intervened, trying to separate the groups so that the ceremony could continue. At least two people, including a policeman, were injured, according to local media.
A group of radicals reportedly attacked Victory Day march attendees in the eastern Ukrainian city of Slavyansk, Donetsk region. According to channel '112 Ukraine,' citing a local official, who took part in the march, the assailants spattered flour and sprayed green disinfectant at the marchers, among whom there were several veterans. The official claimed however that police pushed back the attackers.
Meanwhile, a Victory Day parade was held in Donetsk, with thousands of people marching in commemoration of those who fought against the Nazis in the war.
In the neighboring self-declared Lugansk People's Republic thousands of people participated in a further march.
On May 9, Ukraine celebrated the Day of the Victory over Nazism in WWII. The name was chosen in 2015 after the country's parliament decided to change the wording from the previous version – the one used for the holiday in Russia – The Great Patriotic War Victory Day. The move came amid what some call attempts to disunite the two nations' common roots following the the Crimea peninsula's absorption into Russia.
You can share this story on social media: