'Destroy barriers': Anarchists, pro-refugee activists clash with police at Austrian-Italian border
Hundreds of anarchists and black bloc activists have spurred unrest at the Austrian-Italian border storming the train station, throwing stones, flares and smoke bombs at riot police, who used batons and tear gas against protesters.
The demonstration on Saturday at the Brenner mountain pass between Italy and Austria came in response to the enforcement of stricter border control measures to tackle the influx of refugees.
About 500 activists gathered in front of the main entrance to the train station, holding banners that read "Close the door to fascism," "Time to launch social revolution," "Borders down," "Destroy barriers" and others.
At least 4 officers and several protesters were injured in the unrest, according to La Repubblica.
Hundreds of members from the so-called anarchist black bloc who came to Brenner from other Italian regions as well as from Germany, Italy and Spain to take part in the demonstration are supposedly those responsible for the clashes with riot police, Italy's Ansa news agency says.
Dressed all in black, chanting slogans against the media and police, they began throwing stones and flares at police. Police fired tear gas at the activists. Some reporters were also assaulted, La Repubblica said.
Black bloc is a protest tactic that involves wearing black clothes and masks. Its participants are associated with anarchism, since they generally lack central organization and most often engage in the destruction of property. They claim their goal is to defend demonstrators when police turn up.
According to RTV San Marino, the protesters were also in possession of explosive devices. It was not clear what kind of devices, exactly, however.
Anarchists stormed the train station, temporarily blocking the railroad, and then dispersed in a nearby village. Police ousted the protesters using water cannons. The crowd took to the A22 highway and is now reportedly moving toward Austria.
Austrian Interior Minister Wolfgang Sobotka has ruled out the idea of building a fence on the Austrian-Italian border at a conference in Meran on Saturday, local media reported.
"There will be no fence in Brenner and the border won't be closed," the minister said, adding that if "Italy does its bit," there will be no need for border controls and additional checks.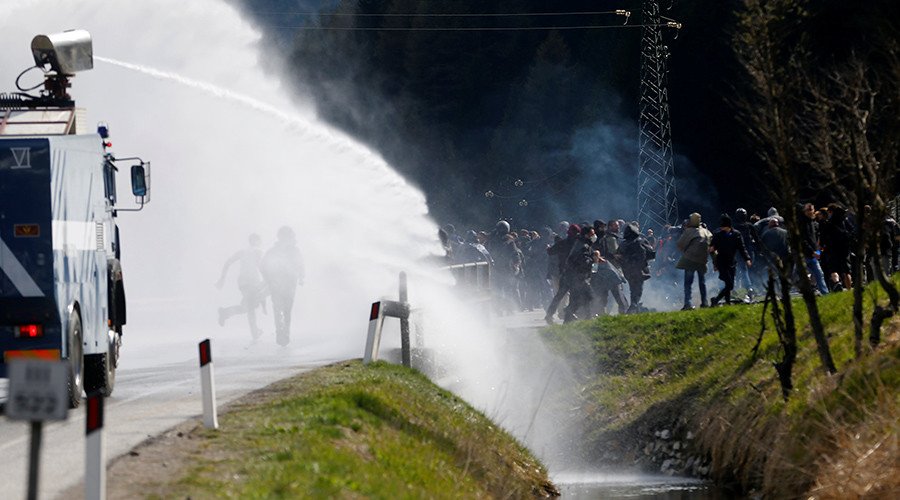 Last month in Rome, Sobotka said that at least one million migrants may try to make it across the Mediterranean Sea to Italy before continuing on to Austria this year. However, the figure might actually be much lower, Italian officials suggested.
Austria's plan to build a fence along its border with its neighbor has been met with disapproval by Italy, as well as Germany, Italian Prime Minister Matteo Renzi said at the close of the talks with Angela Merkel on Thursday.
"There is a dire need for closing this route since… there will be an influx of hundreds of thousands of migrants to Austria and then to Germany," political analyst Alexander Markovics of the right-wing Generation Identity movement told RT, adding that, although this may look like a tough measure, it is the only choice that Austria has in this "very severe security situation in both countries."
Refugees reach Italy by both the Central Mediterranean route and the Apulia and Calabria route, with over 150,000 illegal crossings detected in 2015, according to Forex, the EU border management agency.
According to Italian Interior Ministry statistics, 16,075 migrants have already crossed to its shores this year, compared to about 10,000 during the same period in 2015.
You can share this story on social media: