Owners watch their home devoured by Alberta inferno via live webcam (VIDEO)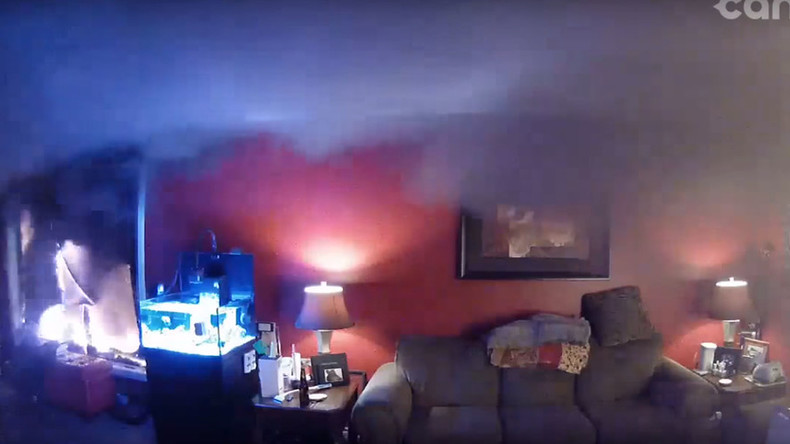 Owners of a home in Fort McMurray, Canada, had to watch their home burn via webcam. It comes as residents flee the area due to raging wildfires, described as "monster" by the authorities.
The video first shows the intact living room, but the ominous crackling of flames can be heard in the background.
The flames and gusts of black smoke start dancing just outside the living room window, and it's clear a catastrophe is coming.
READ MORE: 7,000 airlifted out of Alberta inferno as officials warn blaze could double in size (VIDEOS)
Sparks start flying outside, the smoke becomes darker, and – bang! – the window breaks, and the black cloud rapidly fills the room.
High flames storm into the room, and it's not long before the smoke clouds the webcam's view, and the fire alarm goes off.
At the end, almost everything disappears from view because of the smoke, but for flames dancing near the window – and then, even they are gone.
The video has emerged on the backdrop of the wildfire engulfing more and more territories in western Canada.
It is estimated that 90 percent of homes in Fort McMurray have been lost to the blazes, the regional government told reporters Wednesday.
A couple of days ago, a mandatory evacuation order was issued for all residents in Fort McMurray, Anzac, and Gregoire Lake Estates.
Those who fled the area keep track of their homes via webcams, and there have been some other disturbing videos emerging online.
In this heartbreaking video, a woman cries about the house their family lost.