Attack on Turkish editor who exposed arms convoy to Syria caught on VIDEO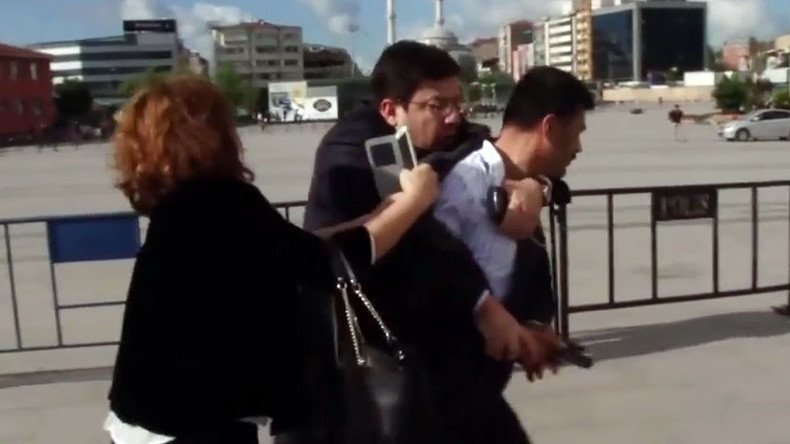 Footage has emerged showing the moment an assailant attempted to shoot a Turkish journalist as he awaited the verdict of his trial for publishing a video that purportedly shows Turkish officials transporting arms to Syria.
The armed attacker can be seen standing just feet from Can Dündar, editor-in-chief of Turkey's Cumhuriyet newspaper, when he fires several shots at him while shouting "traitor."
The shooter fails to hit the journalist, however, and Dündar manages to safely flee the area while his assailant is restrained.
READ MORE: Gun attack on Turkish editor outside court during his trial for exposing Turkey-Syria weapons convoy
Two men armed with guns are then seen forcing the attacker to the ground at gunpoint.
A different journalist was injured in the leg, and his colleagues can be seen phoning for help.
Dündar and his colleague Erdem Gul, Cumhuriyet's Ankara bureau chief, were charged with obtaining and revealing state secrets "for espionage purposes," seeking to "violently" overthrow the Turkish government, and aiding an "armed terrorist organization" after publishing a video in May of 2015 that appears to show intelligence officials transporting arms to Syria.
The journalists' pre-trial detention and charges have led to widespread international criticism of the Turkish government.
Turkish President Recep Tayyip Erdogan has stated that the trucks were carrying aid to Turkmens fighting the forces of Syrian President Bashar Assad and Islamic State (IS, formerly ISIS/ISIL) in Syria.
You can share this story on social media: