'Anti-cop violence': French police plan protest against 'public hatred' they face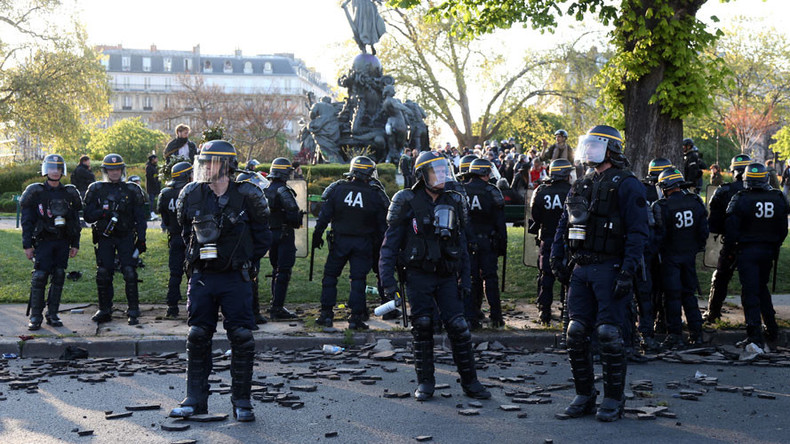 French police are set to protest against the level of brutality they are receiving from members of the public. A major police union says 300 officers have been hurt since the start of the year and the police will stage a protest on May 18.
Police believe they have been unfairly treated by the public for simply trying to do their job. A major French police union, Alliance, says that police are already stretched following a step up in security following November's terrorist attacks. The organization says there is a mounting "anti-cop hatred" becoming evident in France.
"We have gone from being embraced by the crowds after the Charlie Hebdo killings to being attacked repeatedly in the streets," Philippe Lavenu, from the Alliance police union, told The Local.
The Alliance union is pressing the police to stage a demonstration on May 18 to show the public what they have to put up with.
"This is totally unacceptable, with 300 police hurt since the start of the year," government spokesman Stephane Le Foll told Reuters. "We will not let this pass."
The Alliance organization also says it is "outraged by the irresponsible and relentless drive to make out that police officers are savage brutes who blindly beat youths," Radio France Internationale (RFI) reports.
However, it remains to be seen whether the French police will get much sympathy from members of the public.
During May Day protests in Paris, police used tear gas to break up a march of trade unions and students opposing labor reforms put forward by the French government.
The police have been accused of using disproportionate force and violence by activists from the Nuit Debout (Up All Night) group, who have been conducting protests against the unpopular labor reforms for the last two months.
In April, police in Paris fired tear gas to disperse a group of 100 people after fresh clashes erupted at the Place de la Republique. Twelve Nuit Debout protesters were arrested for throwing projectiles. However, the group has accused the police of using "kettling" tactics against protesters, while a student in the city of Rennes lost an eye after he was hit by a stun grenade fired by police.
While the police are getting increasingly upset at the "anti-cop hatred" being displayed and chants of "Everyone hates the police" from the demonstrators, Fabien Jobard, a specialist on policing matters from France's National Centre of Scientific Research, says this is all part of the job of being a police officer.
"We need to put things in perspective. There is a confrontation between certain people who want to attack the police and the police who respond. This is the job of the police. They are paid for that with taxpayers' money," he said, as cited by The Local.