3 detained after Ukrainian journalists brutally assaulted in Odessa with fists, shotgun (VIDEO)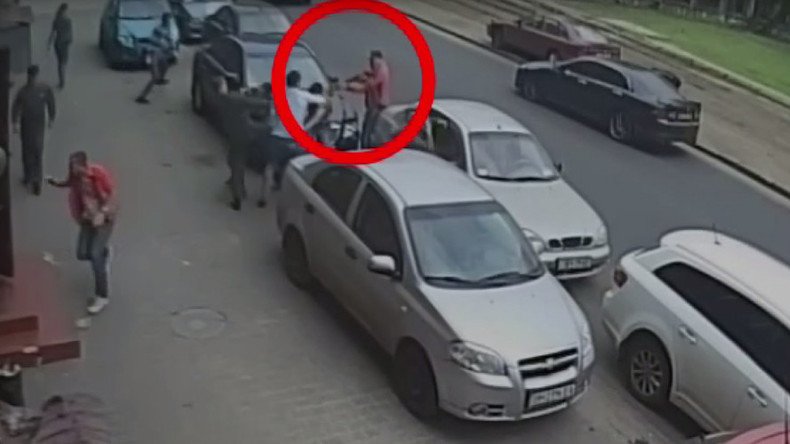 Ukrainian police detained three suspects, who drove up to a local TV station in the port of Odessa and began punching and shooting at several journalists. A video of the attack quickly went viral.
READ MORE: 2 yrs after Odessa killings: Bomb scare, fire at will order, EU still calling for transparent probe
One journalist and two camera operators from the local Channel 7 were injured during the incident, according to the channel.
The reporters were allegedly attacked after they tried to film a road accident that happened near the TV station, according to local media.
After filming, the suspects apparently drove up to the TV station, got out of the dark-silver Honda vehicle and started a fight with the three employees, firing a few shots from a shotgun and then disappearing.
The video of the attack shows the brutal fight. Toward the end of the footage, the third suspect gets out of the car with a shotgun and begins firing.
The three injured staff were hospitalized. The injuries reportedly include bullet wounds to the neck and back, a broken nose and concussion.
READ MORE: Odessa tragedy survivor: 'Many people strangled after escaping the fire'
Channel 7's chief Mikhail Malyshev called the attack complete "lawlessness," adding that the whole incident reminded him of showdown fights back in the 1990s.
"We will stand up against those who want to return Odessa to the 1990s," Malyshev said.
He also expressed concern that only the police responded to the emergency call and the Ukrainian Security Service (SBU), Ukraine's special-purpose law-enforcement agency, didn't show up.
Earlier Monday, Odessa's residents attended a commemoration ceremony marking two years since the fatal fire at the Trade Union House. The participants laid flowers and released doves and black balloons to honor the victims.
On May 2, 2014, 48 anti-Maidan protesters died and over 200 were injured as an angry mob of Ukrainian radicals and football fans besieged and set on fire the Trade Union building. Two years since the tragic events, local authorities have failed to carry out a proper investigation.
Several international organizations, including the Council of Europe, have criticized Kiev for its failure to administer justice.
You can share this story on social media: