WhatsApp ban in Brazil overturned after less than 24 hrs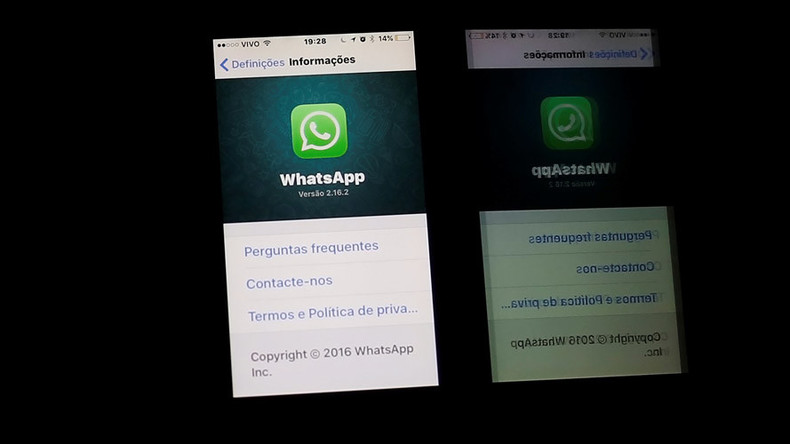 Following mass outrage, a Brazilian judge has overturned a 72-hour nationwide ban on WhatsApp messenger that blocked some 100 million users' access to the service. The second such shutdown in five months lasted only about a day.
"Thankfully, WhatsApp is now back online," WhatsApp Chief Executive Jan Koum said in a statement. "We have no intention of compromising people's security and we hope those impacted by this decision join us in making their voices heard in support of an open and secure internet. The last thing we want is to see WhatsApp blocked again."
The Facebook-owned application went back online on Tuesday after an appeal court challenged a previously imposed suspension, ruling in favor of WhatsApp lawyers.
On Monday, a judge in the remote northeastern state of Sergipe forced Brazil's five main carriers to cut off access to one of the most popular messenger services for 72 hours starting 2 pm local time (1700 GMT) on the same day of the ruling.
The companies were warned that they would be subject to a 500,000 reais (around $140,000) fine in case of non-compliance.
WhatApp responded to the ruling by saying that the company was "disappointed at the decision," which punished more than 10 million users who depend on the service.
The reason for the order has not been disclosed on legal grounds. However, a statement from the company suggested that the shutdown was meant to "force us [to] hand over information that we don't have."
WhatsApp has had previous disagreements with the Brazilian government in the past, one time for allegedly refusing to assist in an investigation in Lagarto involving a number of drug gangs.
In March, Marcel Maia Montalvão, the same judge who blocked WhatsApp for the second time in five months, also ordered the short-term arrest of Facebook's Latin American vice president, Diego Dzodan, for refusing to shutdown WhatsApp.
He was released after one night in jail after a higher court judge ruled the arrest had been "an extreme measure."
WhatsApp had also been banned in Brazil in mid-December of last year when a Sao Paulo state judge ordered a 48-hour suspension of the service that was broken a mere 12 hours later due to public uproar.