Engulfed by fire: Tens of thousands evacuating from Alberta blaze in Canada (PHOTOS, VIDEOS)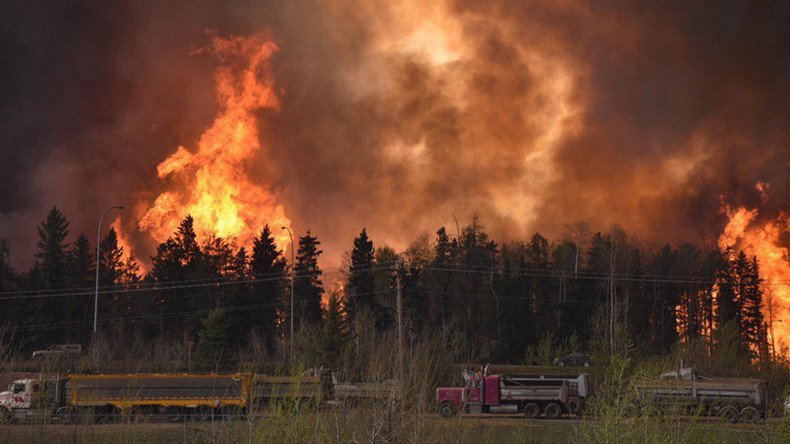 The entire population of Fort McMurray in northern Alberta, Canada has been ordered to abandon their homes after a wildfire ravaging a nearby forest moved into the area. The fire has already destroyed homes in several neighborhoods.
Fort McMurray is an urban service area with a population of about 80,000 people.
A mandatory evacuation notice was issued for the whole city on Tuesday after the wildfire began spreading uncontrollably.
Local authorities have advised residents to evacuate to the Noralta Lodge north of the city because outgoing Highway 36 has been partially blocked due to the fire.
The fire first was detected on Sunday to the southwest of the residential area. It is believed to have covered more than 2,656 hectares (6,540 acres) as of late Monday. Although, more than 90 firefighters have been deployed to battle the fire, the situation on Tuesday has worsened due to strong winds. On Tuesday afternoon the fire breached Highway 63, the main road out of the city.
Several homes in Beacon Hill and the Centennial Trailer Park have been destroyed in the fire, CBC reported.
One of the witnesses captured a video of a power transformer exploding right next to the highway.
The approaching fire also threatened a hospital, according to another witness on Twitter. The AHS hospital announced that it has successfully evacuated all of its 105 patients.
"My whole life is burning away. My home is in Gregoire [Fort McMurray neighborhood] so it may be gone soon. My family is trying to get out of town," said Jenn Tremblett, according to Metro News.
Meanwhile, residents of neighboring cities have begun offering help to the stricken area.
"Again, anyone from #ymm needing a place, I'm in south Edmonton, right off Whitemud. We can put you up and we have room for pets #ymmfire," wrote Anglia Redding.
Many locals have lost all their belongings in the fire.
"Almost everyone in my family has lost their home so far. This is too much," tweeted Taylor MacDonald.
"One of my buddies lost his house and pet. Heartbreaking," wrote Jordan Decker.
As the harrowing details on the scope of devastation are coming in, some Canadians have appealed to their compatriots to donate to Red Cross Canada, which has started a donation campaign on its page.
Canadian Prime Minister Justin Trudeau has tweeted a message of support to the residents of Fort McMurray, calling on them to follow evacuation orders.
After speaking with Premier of Alberta, Rachel Anne Notley, Trudeau promised that the federal government would help those affected by the disaster.
You can share this story on social media: