Arctic diving & igloo building: RT follows Russian troops on 'typical day' near North Pole
A waterproof suit and a sturdy shelter, even one which can be built out of snow, are crucial for any polar traveler to survive extreme conditions of cold, RT's Roman Kosarev reports, having tested both along with Russian airborne troops deployed in the Arctic.
A secure shelter would be certainly handy if, say, a blizzard was on its way, RT's Roman Kosarev explained as he watched the soldiers diligently construct a snow hut.
An igloo is made from rectangular blocks which are then carefully arranged. It takes about two or three hours of work to build one which can hold up to three people. It is much warmer on the inside of an igloo, the reporter confirmed, as he got into the newly-built shelter. To stay even warmer sometime candles are used, though, not for long, he said.
READ MORE: North Pole skydivers: Troops compete in precision landing on drifting Arctic ice floe (VIDEO)
"These candles, I've been told, cannot be used on all the time," because the walls of the igloo get quickly covered in ice as snow starts to melt, the reporter said. "The candle should be on just enough time to warm up the food, to change your clothing," Kosarev explained, saying that the soldier then gets into a special sleeping bag and sleeps for at least eight hours.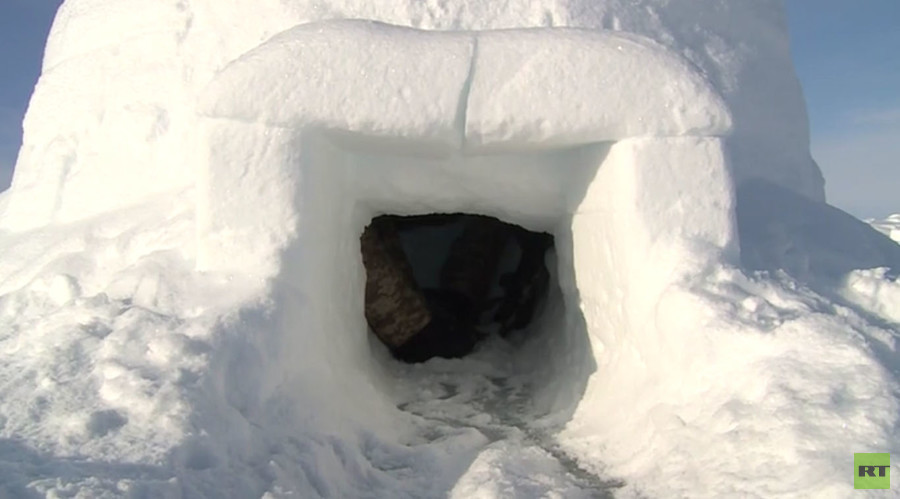 Not merely limiting himself to observing, Kosarev, seized the opportunity to test a specially-designed diving suit used by the troops to overcome water distances in the Arctic.
"Not a single drop of water is inside my suit," he confirmed, impressed by the suit's capability as he got into an ice-cold pond in the middle of the Arctic wearing the same suit used by Russian airborne troops.
"I feel wonderful. This feels great," Kosarev said while floating on top of the pond in his Arctic diving outfit.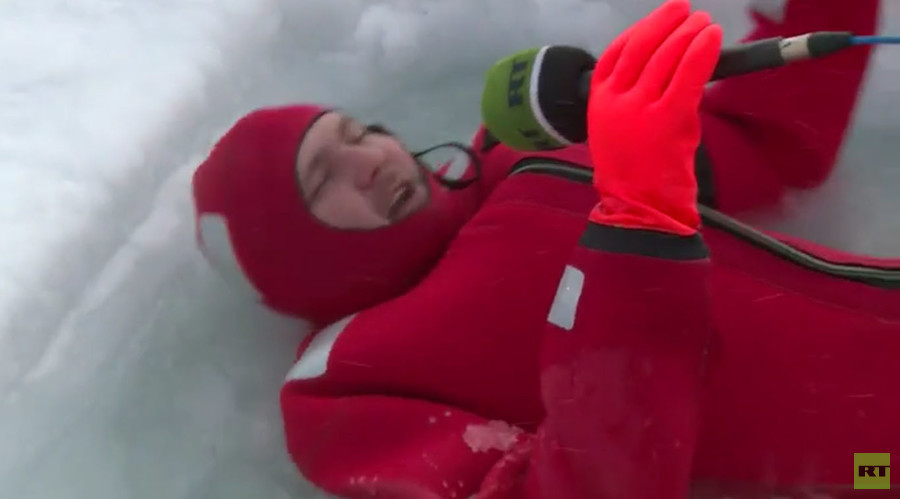 The RT crew arrived at the Barneo base last week to witness drills being conducted by a special airborne unit that was airdropped to the base from an altitude of 1,500 meters. The base was established on a drifting ice field near the North Pole to give elite units the opportunity to practice such drills in the severe conditions of Russia's extreme North.