Chaos at Brussels Zaventem airport as security tightens following deadly attacks (PHOTOS)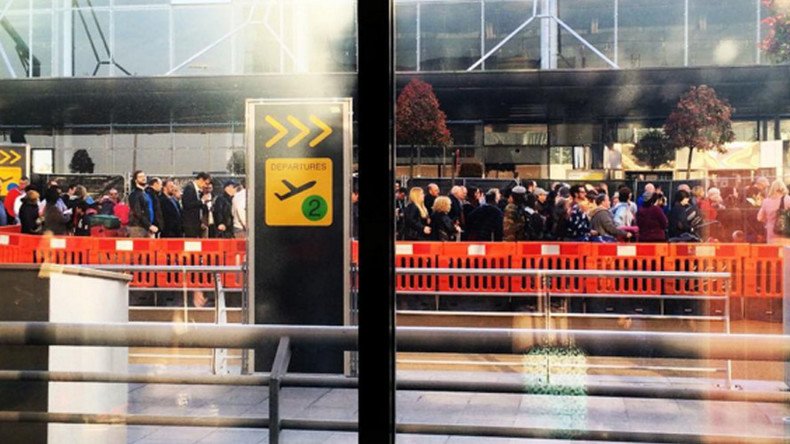 Chaotic overcrowding has now struck Brussels Zaventem Airport, following the reopening of its departure hall, which was rocked by suicide blasts in March. Stringent security made thousands of passengers wait hours in long queues.
The airport's departures hall was opened on Monday. "Today we're welcoming the first passengers back into the main #brusselsairport departures hall. An important and hopeful moment. #BrusselsTribute," the airport wrote on Instagram.
However, passengers had a sticky time passing all the registration procedures. Due to security screening, people had to stand in line for hours, many of them outside the building, some missing flights as a result, the Belga news agency reported.
"The first day … is always difficult," Nathalie Van Impe, Brussels Airport spokesperson, said. "We will evaluate the operations and optimize them."
Former Belgian Prime Minister Yves Leterme reportedly missed his flight on Monday morning, according to the La Libre newspaper. He waited for two and a half hours in the airport.
The airport now advises it passengers to arrive 3-4 hours in advance so as not to miss their flights.
Numerous photos on social media show messy scenes.
"3 hours margin to take off from #brusselsairport. Alternatives become attractive," @FLouagie user wrote on Twitter, while @basverveen said: "What amateurism at the airport #Brussels #mess # Brussels Airport."
"Airport has never been so well protected, passengers on the other hand? For 3 hours in a long queue outside is safe?" added @ svankerrebroeck.
"Our strategy against terrorism after attacks apparently creating immobile crowds," @ randrafels said.
Others were more patient, saying that these measures are temporary and are made for security reasons.
"We need # Zaventem still give a little time," @Lachenbe said. "Hopefully they'll fix this absurd situation @BrusselsAirport soon enough. This isn't a long term solution!" @Jasper_Meurs added.
The departure hall was the target of Islamic State-linked terrorists on March 22, when Brussels was hit by twin suicide bombings at Zaventem Airport and the Maelbeek metro station.
The hall was rocked by two explosions carried out by suicide bombers, Ibrahim El Bakraoui and Najim Laachraoui.
In 2015, passenger flow at the airport was 23 million people.
You can share this story on social media: