2,000 Siberian youths celebrate May 1 with absurdist apolitical rally (PHOTOS)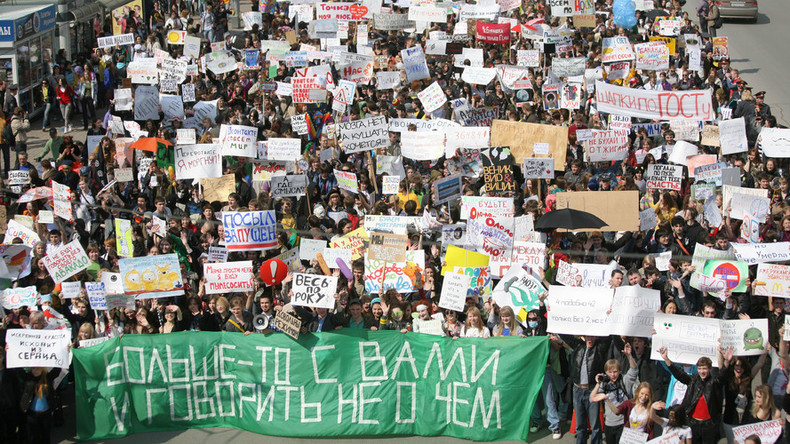 Around 2,000 youths poured out on the streets of Novosibirsk on the Day of Spring and Labor, a Russian public holiday, to take part in the so-called "Monstration" – an absurd, nonsensical, ironic march that takes place annually.
The event, masterminded by the Russian artist Artyom Loskutov, is a carnival, a demonstration and a march all in one. The first "Monstration" was held in the Siberian city in 2004. It has become a permanent fixture of the city since then. In 2011, Loskutov received Russia's key award for contemporary visual art for his brainchild, Monstration.
This time around the extravaganza's main slogan, authorized by the city's authorities, was some sort of a reminder: "Here, you're not in Moscow."
READ MORE: Watch RT's exclusive drone shots of Moscow V-Day parade rehearsal
The participants of the mock march, called the 'monstrators', held amusing banners, reading: "Eat Vegetables", "Just Be an Owl," "Clone Beavers," to name a few absurd examples.
Loskutov later said on Twitter that he was detained without cause by police after Sunday's event. He told TASS he was charged with organizing and conducting an unauthorized march, with a decision on arrest and penalty due to be taken by a court. However, Novosibirsk mayor's press secretary told the news agency earlier that from the City Hall's perspective, the rally was agreed upon and passed without any incidents.
Good asphalt cannot be found on a road!!!
Leo lived, Leo lives, Leo will live!
I eat for food