FEMEN activists arrested in Paris after topless protest against National Front (VIDEO)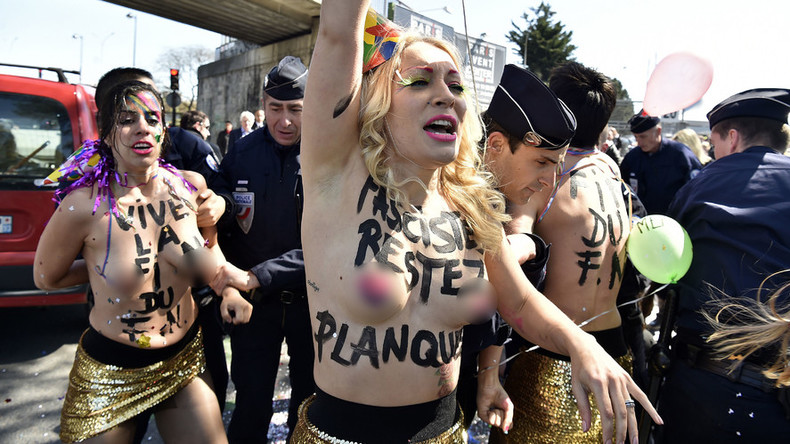 Four FEMEN held a topless protest against the National Front party, shouting slogans such as "racists," "fascists," and "long live the end of the National Front." The women were subsequently arrested by police.
The women had painted slogans on their chests and wore gold mini-skirts during their protest in Paris, which lasted just a few minutes. They were demonstrating outside a banquet being held by the National Front, which was in tribute to Joan of Arc. She is one of France's most revered heroines and was beatified as a Roman Catholic saint after her death.
"May 1, 2016 is a historic moment in France as the fascist and xenophobic National Front party is not organizing its traditional march through the streets of Paris," the group wrote on its Facebook page.
"We are proud that our democratic and secular streets are clean without the dirty hatred of Marine Le Pen and her horde of savage and racist misogynists," the statement continued.
The four protesters also threw confetti into the air as they chanted: "Long live the end of the National Front," while also saying the right-wing party were "racists" and "fascists." The FEMEN members were quickly carted off by the police into waiting police vans.
FEMEN, which is a radical feminist protest group founded in Ukraine in 2008, carried out a similar protest exactly a year ago against the National Front. The topless activists disrupted Marine Le Pen's May Day speech in Paris, as well as a tribute to Joan of Arc at a rally hosted by France's National Front party.
Le Pen, the leader of the National Front, was approaching the memorial to Joan of Arc to lay flowers when two FEMEN activists with "TOP fascist Le Pen" painted on their chests and backs interrupted the ceremony.
"Lots of surprises on this May first," Le Pen said in reaction to FEMEN's antics. "It's quite a paradox when you call yourself a feminist and try to disturb a tribute to Joan of Arc."
Although the group was originally founded in Ukraine, it is now based in Paris. The organization has become internationally known for its topless protests against religious institutions, sexism, homophobia, and other social, national, and international issues.