Turkish journalist detained & interrogated over pro-Kurdish tweets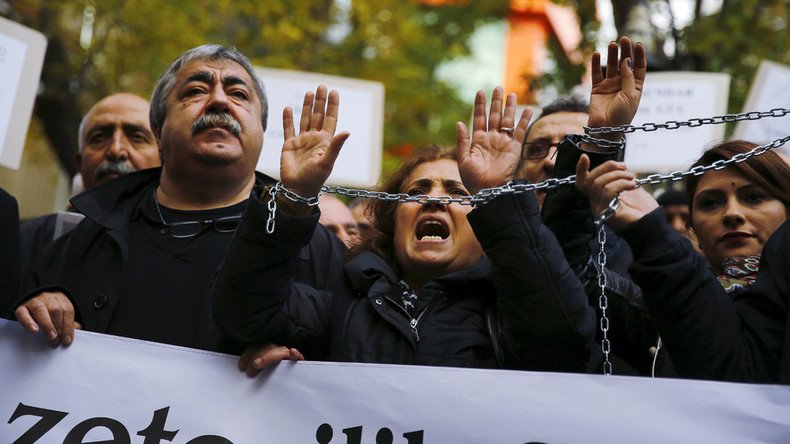 Prominent Turkish journalist Hamza Aktan was briefly detained on April 30 and questioned about pro-Kurdish tweets he posted and reposted in 2015.
Hamza Aktan, 33, chief news editor of the pro-Kurdish IMC TV channel, was arrested by a counter-terrorism unit at his home in Istanbul's Bahçelievler district early on Saturday morning, Aktan's family told the Hürriyet Daily News.
He was taken to the provincial police department in Aksaray district, where he was interrogated for about 12 hours, according to IMC TV channel statement.
The journalist was said to have been questioned about his own tweets published last year and was asked why he re-tweeted posts posted by pro-Kurdish journalists, Nurcan Baysal, founder of the Diyarbakir Political and Social Research Institute, and Mutlu Çiviroğlu, a Washington DC based Kurdish affairs expert and journalist.
Turkish police were also reportedly interested in why Aktan shared on his Twitter account media reports about civilian casualties of the ongoing conflict between Turkish security forces and armed militia of the Kurdistan Workers' Party (PKK), outlawed in Turkey.
"For what purpose you shared those reports?" Aktan was asked, according to IMC TV, an independent broadcaster popular mostly among the Kurds in the southeast of Turkey.
Aktan was eventually released under judicial control, but still faces terrorist propaganda charges, the channel's statement says.
"Judicial control, like detention, is a form of punishment," the IMC quoted Aktan as saying on his release. "This is right neither for a journalist nor as a citizen. This is a challenge to freedom of expression," the journalist said.
Turkey Journalists' Union (TGS) has condemned the detention of the IMC TV news editor as an "attack on the freedom of expression."
Hamza Aktan's detention comes amid a string of similar events.
Just on Thursday, journalists Hikmet Cetinkaya and Ceyda Karan were sentenced to two years in prison for republishing cartoons on the Prophet Muhammad from the French monthly Charlie Hebdo.
A week ago, on April 23, Dutch-Turkish journalist Ebru Umar was briefly detained for tweeting critical comments about Turkey's President Recep Tayyip Erdoğan. After a 16-hour interrogation, she was released on April 24, but is not allowed to leave the country. She is obliged to report to police twice a week.
The crackdown on journalists in Turkey has been the subject of international criticism on many occasions. The UN, the EU, the organization Reporters Without Borders (RSF) and many countries, including Russia and the US, have repeatedly criticized Turkey's restrictions on freedom of speech.
You can share this story on social media: