'All occupiers accuse the resistant of terror': Palestine envoy's 'Nazi comparison' enrages Israel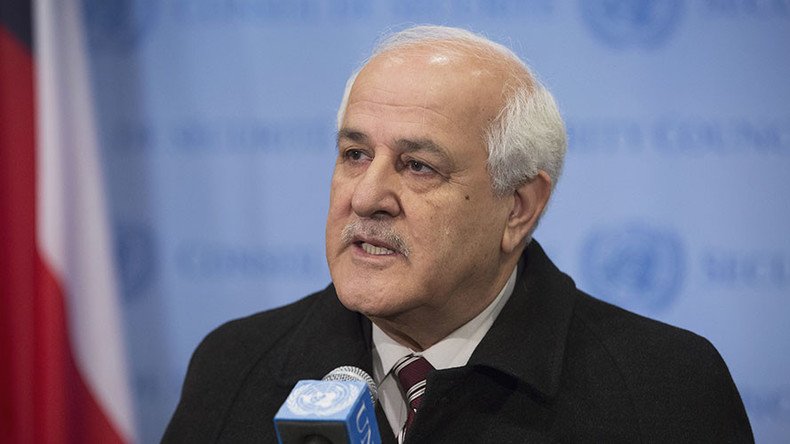 The Palestinian envoy to the UN has defended the rights of his countrymen to resist Israeli occupation, comparing Tel Aviv's labeling of Palestinians as "terrorists" to the Nazi suppression of Warsaw Ghetto uprising fighters.
The comments were made during a press conference held by Riyad Mansour, the Permanent Observer of Palestine to the United Nations, which occurred 10 days after he and Israel's ambassador to the UN, Danny Danon, exchanged heated verbal accusations with regards to the wider definition and condemnation of terror.
During a UN Security Council meeting back on April 18 Danon accused Palestinians of teaching "hatred" in schools and naming streets after "terrorists." Danon also lashed out against Mansour's failure to condemn "all" acts of terrorism.
"You pay the families of terrorists," the Israeli envoy said. "You glorify terrorism. Shame on you for doing that."
"Shame on you for killing thousands of Palestinian children," Mansour retorted.
Speaking on Wednesday, Mansour accused Danon of labeling all Palestinians terrorists, drawing parallels with all occupying forces in the history of humankind – and most notoriously to the Nazi regime which tried to destroy all resistance to their rule.
"[Israel's] representative on the UN Security Council trying to show that all the Palestinian people who have legitimate rights to resist occupation in legitimate ways – he paints them as terrorists," Mansour said in New York.
"Guess what?" he added. "All colonizers, all occupiers, including those who suppressed the Warsaw [Ghetto] uprising, labeled those who resisted them as terrorists."
Responding to Mansour's fresh accusations, Danon stressed that "any comparison between the Nazi regime and the democratic State of Israel is despicable and must be condemned by the international community."
The Israeli Ambassador accused Palestinians of "continuing to lie to the world and turn to the international community with ridiculous claims instead of focusing their efforts on fighting terror and incitement."
Replying to charges of Israeli detention of minors, Danon said that some "terrorists" deserved no other treatment.
"When we arrested the sixteen-year-old who killed Dafna Meir, an innocent mother of six, we treated him like the terrorist that he is," Danon said. "A murderer who belongs in prison for life."
In the meantime Mansour announced that on May 6 the UN Security Council will have an informal meeting on the protection of civilians in Palestine.
"Our desire is to find any form of protection to protect our people from the brutality of this occupation," he said.
You can share this story on social media: