Ukrainian nuclear power workers to protest on 30th Chernobyl disaster anniversary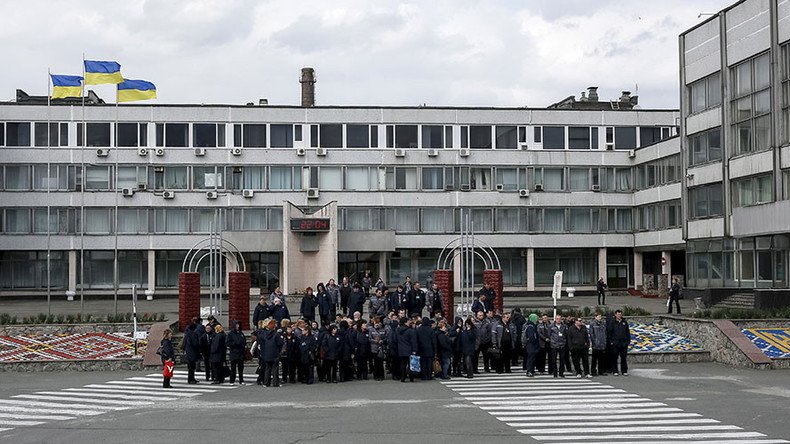 Ukraine's state nuclear energy giant says all employees of the country's nuclear plants will stage a massive protest over its frozen assets in Kiev on Tuesday, as the world will be marking the 30th anniversary of the Chernobyl disaster.
CHERNOBYL: FALLOUT 30 (SPECIAL PROJECT)
Energoatom, the operator of Ukraine's four functioning nuclear plants, said on its website on Monday that its workers resorted to such "extreme measure" because of the "inaction" of the state in addressing the issue of "unjustified seizure" of the company's assets.
The assets freeze led to Energoatom stopping payments for nuclear fuel, nuclear materials and removal of used nuclear fuel, it stressed.
"The payment arrears may result in the delay in the supply of nuclear fuel to Ukrainian nuclear power plants and therefore stoppage nuclear power units," the company warned.
The wages of the employees are also under threat, the statement by state-owned Energoatom added.
The protests action was scheduled after attempts to resolve the issue "peacefully" by the nuclear worker's union turned out unsuccessful, it said.
The Energoatom assets were arrested in March after the court ordered to collect 127.3 million hryvnia (around $5 million) of debt from the company.
The debt to Ukrelektrovat company "is not confirmed by any primary accounting documents, while the liability of 2.5 million hryvnia that had been present on Energoatom's balance account was written off in 2004 due to the expiration of the statute of limitations," it explained.
The amount of the debt was artificially increased after legal enquiry by an individual expert, whose conclusions were put in doubt by the Justice Ministry and led to the launch of a criminal case, Energoatom said.
READ MORE: 'Nuclear safety is no-politics zone: Chernobyl plant head urges Russia-Ukraine cooperation
In April, the company has sent an open letter to Justice Minister, Pavel Petrenko, urging him to interfere into the situation, but the plea was ignored by the official.
Energoatom operates Zaporizhzhya, Rivne, South Ukrainian and Khmelnitsky nuclear power plants, providing for over a half of Ukraine's total energy demand.
READ MORE: Wildlife thriving without humans in Chernobyl nuclear zone – study (PHOTOS, VIDEO)
On April 26, 1986, the biggest nuclear disaster in human history occurred at the Chernobyl nuclear power plant in the Ukrainian Soviet Republic.
A core meltdown completely destroyed Reactor №4 at the plant, leading to a huge radioactive leak, which affected areas in places as far off as Norway.
Since then, the reactor has been enclosed in a concrete and lead sarcophagus that prevents further radioactive leaks.
You can share this story on social media: