France, southern EU states should be excluded from Eurozone – German anti-immigrant AfD party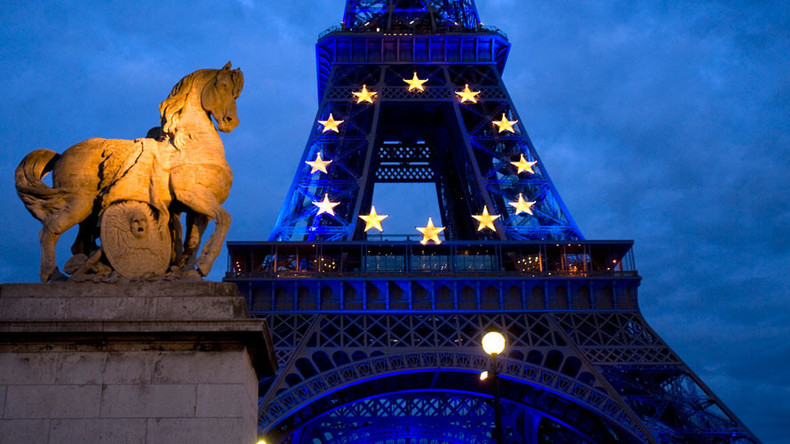 Senior officials in the anti-immigration Alternative for Germany (AfD) party want France and southern EU states – Portugal, Spain, Italy and Greece among them – to be banished from Eurozone, as they lack "cultures of stability" like Germany's.
The remarks were made by AfD deputy leader Alexander Gauland and party's federal spokesman and co-leader Joerg Meuthen in an interview to German Frankfurter Allgemeine Zeitung.
"We can have a common currency with the Netherlands, Austria, Finland or Baltic states. They have similar cultures of stability like ours," Meuthen said, as quoted by Deutsche Welle. "But the French have a different one, not to mention the Italians, Spaniards, Portuguese and Greeks. They don't want austerity at all."
When Gauland was asked if AfD wants France to be excluded from the EU currency zone, he said that while "no one wants to throw France out," the country is "certainly a political problem."
"And for that I have no solution," he said, adding that it was good for Paris to share the common currency, "but if it will not or cannot afford that economically, then one must find other structures."
France is the Eurozone's second-biggest economy, bested only by Germany, but has been struggling to reduce both its national debt and an unemployment rate of 10.2 percent. French President Francois Hollande's latest labor reforms were not met with enthusiasm in the country, which has seen a wave of violent protests rolling through Paris, Nantes and other cities.
The AfD party, founded in 2013 by economics professor Bernd Lucke, was initially against the EU's single currency, but for EU membership.
In 2015, however, it saw a leader and ideology change with businesswoman Frauke Petry coming to power by winning public support with her anti-immigrant rhetoric. The AfD showed significant success in recent elections, securing enough votes to get into three state legislatures, including in Sachsen-Anhalt, where it became the second-largest party after the ruling Christian Democratic Union of Germany.
READ MORE: 'Germany needs our party as new alternative' – AfD chairwoman to RT
AfD is notorious for its controversial statements against Islam and refugees. Earlier this month, party deputy chief Beatrix von Storch described Islam as a political ideology incompatible with the German constitution, and called for a ban on minarets and full veils. In turn, the Council of Muslims in Germany has branded the AfD's statements "Nazi."
In March 2016, a branch of the AfD in Lower Bavaria presented a new policy document that proposed the closure of all mosques already operating or under construction in Germany.
Mosques promote "not only common prayer, but also the spread of Islamic teachings directed toward the removal of our legal order," it said.
You can share this story on social media: