6.0 quake strikes Ecuador amid recovery efforts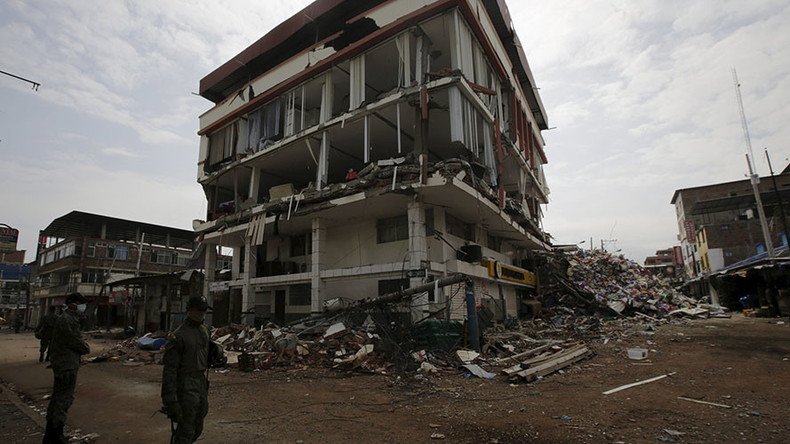 A 6.0-magnitude earthquake has struck off the coast of Ecuador, the US Geological Survey (USGS) has reported. The new tremblor comes just days after a devastating 7.8 quake killed at least 587 people in the South American country and amid internationally-assisted recovery efforts.
The earthquake was centered some 33.0 kilometers (20.5 miles) north-northwest of Bahia de Caraquez and some 100 kilometers (62 miles) from the city of Portoviejo. It hit at a depth of 10 kilometers.
DETAILS TO FOLLOW
The latest tremblor came just days after a strong 7.8 magnitude quake hit the country on Saturday, whose death toll has already climbed to over 580 victims, the government reported on Thursday. With 155 people still unaccounted for, the death toll is expected to rise even further, however. The damage to the country's infrastructure appears unprecedented, with over 23,500 people left without homes. The quake was followed by two aftershocks of 6.1 and 6.3 magnitudes. The country's president, Rafael Correa, said that the damages inflicted by the disaster are estimated at a staggering $3 billion. He has consequently announced plans to raise taxes in order to rebuild the affected areas.
Estamos en Bahía. Tres réplicas, dos bastante fuertes. Una con epicentro cerca de Jama, otra con epicentro cerca de Canoa. Guardar calma...

— Rafael Correa (@MashiRafael) 22 апреля 2016 г.
...Personal IG dice que es normal, y que en promedio se deben esperar unas diez réplicas de esa magnitud.
¡Ánimo!

— Rafael Correa (@MashiRafael) 22 апреля 2016 г.
Correa said on Twitter that three aftershocks were registered on Thursday night, two of which were "fairly strong." He called on residents to "keep calm".
"We should expect about ten aftershocks of that magnitude," he added.
Russia's Emergency Ministry has sent an airplane carrying 30 tons of humanitarian aid to Ecuador, including food, tents, and mobile electric stations on order of Russian President Vladimir Putin.
You can share this story on social media: