Brussels bomber worked at Zaventem airport for 5 yrs – report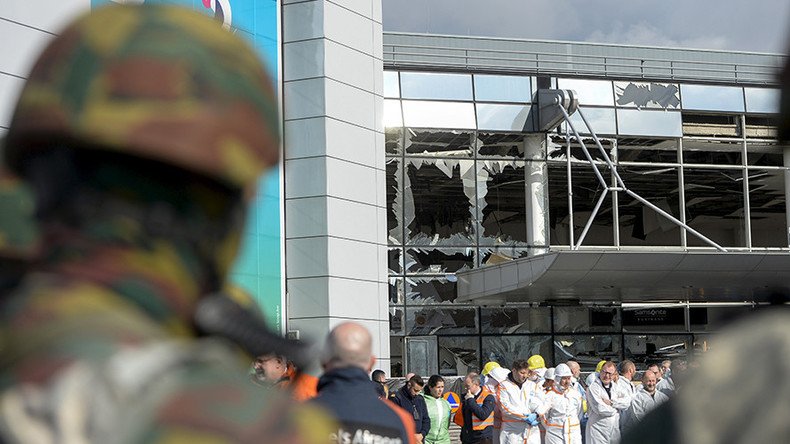 One of the suicide bombers who blew himself up at the Brussels airport in Zaventem on March 22 had worked on the site for as long as five years, Belgium's VTM television reported.
Najim Laachraoui "worked at Brussels airport until the end of 2012," Flemish-language VTM said, adding that the terrorist had been recruited by a temp agency and knew the site like the back of his hand. "He was well-informed about security at Zaventem," the broadcaster reported, adding that although it was not clear whether the man had already been under the influence of Islamic State, "people can radicalize very quickly."
VTM did not provide any details about the kind of work Laachraoui carried out at the Brussels airport. Airport staff usually have access badges valid for five years, it said.
The broadcaster said that a hidden prayer room had been discovered at Brussels airport shortly before the attacks "where radicalized staff gathered to pray in secret." The airport shut down the prayer room at the request of police, VTM said, adding that there's a list of "at least 50 radicalized airport employees."
At least 50 supporters of Islamic State (IS, formerly ISIS/ISIL) are currently working at Belgium's Zaventem airport, Belgium's Nieuwsblad newspaper reported late last month, citing airport security officials.
It emerged earlier this month that one of the Islamic State suicide bombers, who killed 32 people at the Brussels airport and on a rush-hour metro train, had worked as a janitor in the European Parliament in 2009 and 2010. A source close to the inquiry told AFP it was Najim Laachraoui, a 24-year-old Belgian who prosecutors said blew himself up in the airport attack. At the time of his temporary work in the parliament, he had no criminal record, the European Parliament said.
Explaining why people like Laachraoui get hired at places like the EU Parliament, Lode Vanoost, former deputy speaker of the Belgian Parliament, said that the badly-paid, temp jobs often go to people from migrant communities. Employee turnover is very high and the vetting procedure, which Vanoost described as "outdated" in an interview with RT, simply can't follow the personnel flow.
Laachraoui is believed to have traveled to Syria in 2013. He is also suspected of being the bomb maker for the Paris terror acts last November after his DNA was found on some explosives used in the attacks, which killed 130.
He resurfaced two months before the Paris attacks, when he was stopped by police on the Austria-Hungary border. He was using the false identity of Soufiane Kayal and was traveling with Salah Abdeslam, the sole survivor of the terror cell which carried out the Paris attacks, AFP reported.
You can share this story on social media: