Mexico oil factory blast: 13 dead, over 100 injured, hundreds evacuated as huge toxic cloud released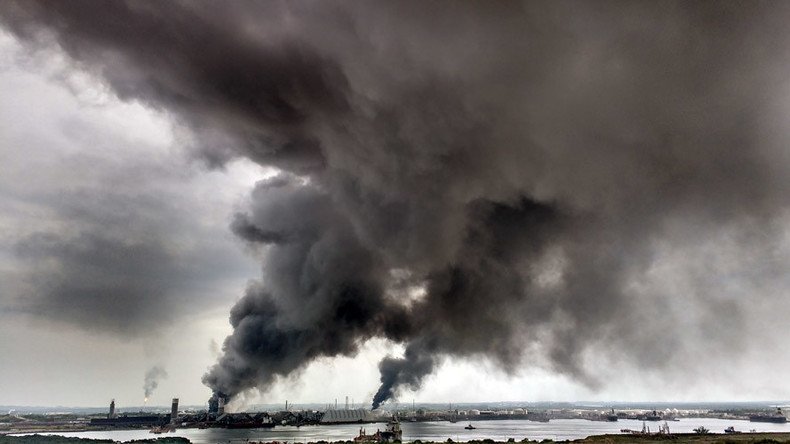 At least 13 people are confirmed dead and more than 100 injured in a blast at a Pemex oil facility in the Mexican port city of Coatzacoalcos, which triggered a massive fire sending out a toxic cloud. Hundreds of people in nearby areas have been evacuated.
Pemex raised the estimate of the number of injured to 136 people. Earlier, Veracruz State Governor Javier Duarte said on Twitter that as many as 105 people have been hospitalized, 58 of whom were plant employees.
Luis Felipe Puente, the head of Mexico's federal emergency services, confirmed to Reuters earlier that three people had been killed and 45 injured in the blast. Puente added that 2,000 workers were evacuated from site during the fire.
Petróleos Mexicanos, or Pemex, earlier said in a statement on its Twitter account that the explosion took place at the Clorados 3 (Chlorine 3) plant, which is operated by Mexichem, an associate company.
The death toll from the blast could climb, Pemex CEO José Antonio González Anaya told reporters.
"Visually, we can confirm only three deaths right now, but it is very likely that during the night … the death toll could climb," Anaya said.
Footage of thick, dark smoke rising into the air was posted online following the blast.
Local media report that the explosion has released toxic substances, such as Chloroethane, into the air.
Graphic photos and videos of employees with severe face and limb burns have appeared on social media.
Duarte said on his Twitter page that classes at all school levels have been suspended in six municipalities. Meanwhile, nearby residents were asked to stay inside their homes.
Pemex says the fire at the plant is now under control.
At least 44 employees injured in the blast were reportedly transported to a nearby hospital.
Photos posted from the scene on social media show people putting up lists containing the names of dozens of injured and hospitalized employees.
The governor of Veracruz said that local authorities are in contact with Pemex.
In a Twitter post, Duarte described the accident as a "strong explosion."
Pemex added that the blast will not negatively impact the plant's ability to export oil.

This is not the first major accident for the Mexican company. In January of 2013, Pemex's headquarters in Mexico City was hit by a massive gas explosion that killed 37 people.
You can share this story on social media: