'Resistance!' French police fire teargas at anti-labor reform protesters in Nantes (PHOTOS, VIDEOS)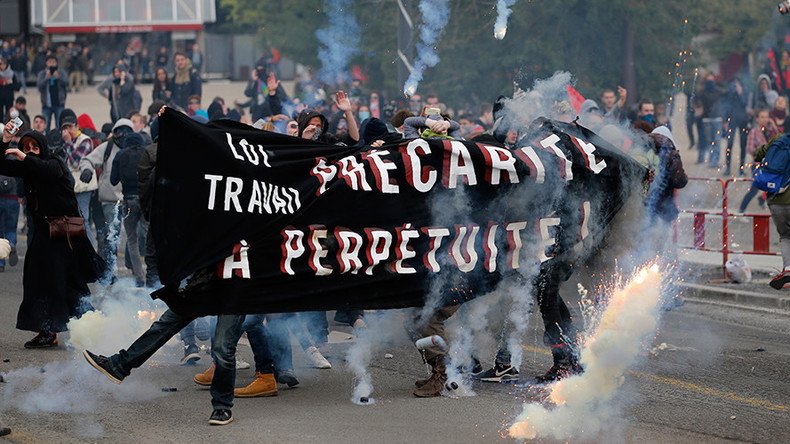 A reporter for RT France has been caught in tear gas as French police clash with demonstrators protesting against labor reforms in Nantes. Several arrests have been made. Protests have also taken place in Paris.
Footage from the scene, filmed by RT's Jonathan Moadab, shows protesters shouting and fleeing clouds of tear gas.
Between 700 and 800 people marched the streets of Nantes to express their discontent with the controversial legislation, RT France reported. The marchers shouted "Resistance!" as they made their way through the city, according to Pays de la Loire.
Officers deployed teargas and clashed with protesters, many of whom threw projectiles at police. Several arrests were made.
Photos posted on social media showed fires burning in trash bins. Images also showed shattered restaurant and shop windows, as well as a shattered ATM machine screen.
Police reportedly blocked roads, as well as the Anne of Brittany Bridge, to prevent demonstrators from entering the city center.
Midway through the day, the Nantes protesters stopped their procession and held an assembly.
Meanwhile, protests in Paris were largely peaceful, with protesters gathering on Place de la Republique.
Demonstrators chanted to music to express their anger at the labor law, while some staged a sit-in outside Quick Burger and McDonald's, blocking the restaurant entrances.
The protests follow similar demonstrations against reforms put forward by Labor Minister Myriam El Khomri. The government says the labor reforms – which focus on fighting unemployment by loosening protections on France's 35-hour work week and layoffs, and reducing overtime bonuses – will help curb the country's high unemployment rate. Protesters and workers' unions, however, say the government wants to make it easier and less costly for employers to lay off workers.
France's unemployment rate hit a record high last month, pushing jobless numbers to almost 3.6 million people, according to the Labor Ministry.
You can share this story on social media: