'Groups sabotaging Syrian truce should be put on UN terrorist list' – Lavrov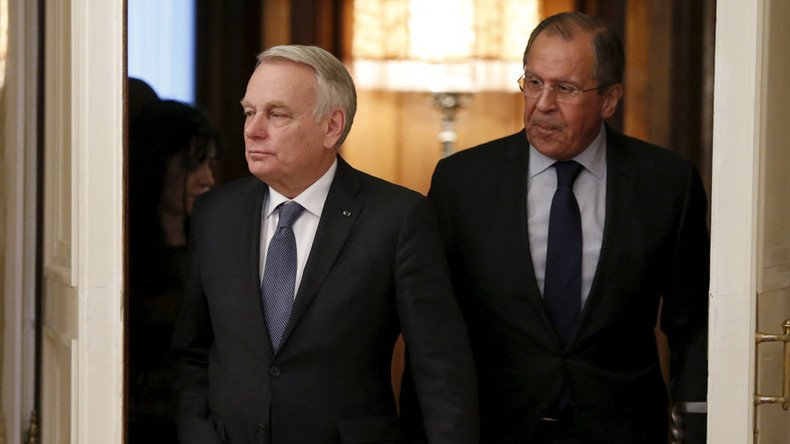 Moscow wants groups sabotaging the Syrian cease-fire to be put on the UN terror list along with Islamic State, Russia's Foreign Minister said, while the French FM agreed the truce was "fragile" and stressed Russia's role in restoring Syrian "statehood."
"There is much evidence that Jabhat al-Nusra is mimicking and trying to disguise itself under new names, uniting with small groups not included in terrorist lists, hence, trying to escape retribution," Sergey Lavrov told reporters after meeting with French Foreign Minister Jean-Marc Ayrault in Moscow.
Lavrov specifically referred to two militants groups, Ahrar Al-Sham and Jaysh al-Islam, which are fighting government forces in Syria, saying that Moscow had wanted them to be put on the terrorist list from the start, but had agreed to hold off on its demand as a compromise measure. Groups listed by the UN as terrorist organizations, such as Islamic State (IS, formerly ISIS/ISIL) and Al-Nusra, are not included in the Russia-US brokered ceasefire in Syria, and can still be attacked.
"[…] Russia was for those organizations being included on the list of terrorist and extremist groups. At the time, our Western partners, most of whom shared this position, asked us to compromise, because some countries in the region were categorically against those groups being counted among terrorists," Lavrov explained. "We agreed to that to reach at least some kind of forward movement."
Yet, there is still a diplomatic way for the UN terrorist list to be amended to include groups that do not adhere to the cease-fire.
"I am convinced that we will soon raise the question in the UN Security Council of including those sabotaging and undermining the truce, but trying to hide under new names, on the terrorist list, along with Islamic State and Jabhat al-Nusra," Lavrov said, adding that Russia is now "generalizing" the evidence it has received through its sources.
This past weekend, Mohammed Alloush, a leader in the Jaysh al-Islam group who heads the Syrian opposition's High Negotiations Committee (HNC), called for Syrian rebels to "ignite the fronts" and "strike" President Bashar Assad's forces.
He later told Sputnik news agency that his post on Twitter had been "a message to defense groups" and "not an appeal for the escalation."
Currently in Geneva, the HNC announced on Monday that it was suspending its participation in the third round of UN peace talks, which were hoped to spur the reconciliation process ahead and build on the Syrian truce that has been in place since late February.
Having accused UN Syria mediator Staffan de Mistura of being "biased" towards President Assad, the HNC representatives left the negotiating table, claiming that alleged truce violations and humanitarian blockades on the part of Syrian government forces made it impossible to continue.
"There cannot be a political process which prolongs the life of this regime. We will not accept this," said Riad Hijab, chief coordinator for the main opposition HNC bloc. "We will fight under all circumstances, even with stones. And never give up."
Despite the pause in comprehensive negotiations, Russia's Foreign Minister has said that the Geneva talks are not "frozen."
"Besides the Riyadh group [referring to the HNC, which was formed after an agreement in Riyadh], there are participating delegations from the Syrian Government and those groups, which were meeting in Moscow, Cairo, Astana, the so-called Khmeimim and independent groups," Lavrov said. "We are coming from the position that Staffan de Mistura is continuing his shuttle diplomacy with those who are not trying to put forward ultimatums and conditions."
Lavrov labeled the HNC a "capricious member of the process" that has been spoiled by foreign backers, such as Turkey.
He said that the HNC mistakenly believes "that they are the only ones, who can represent the Syrian opposition, while others are the opposition of the 'lower class,' whose opinion during the talks should not be regarded."
"They have also imagined that they could insist on what will be the agenda for the negotiations, declare that for the talks to start, you need to clearly say when and how Syrian President Assad will cease governing the country. At the same time, they refer to the fact that this must be done in accordance with UN Security Council Resolution. Everyone understands that this is just a lie," the Foreign Ministry added.
Lavrov has called on his Western counterparts, who he said understand "the awkwardness of the situation," to work hard to prevent any attempts to derail the peace process, warning that this could return the focus on ending the Syrian conflict to a military-based solution.
"We will do our best to prevent the military solution, staking on force from winning the upper hand. Because this is a path to ultimate chaos in the region, to the collapse of yet another state after what has been done to Iraq and Libya. Yemen, too, is far from being in its best shape," he said.
"We must call to responsibility those who cherish such plans," Lavrov stressed.
When asked whether President Assad could win the Syrian war, Lavrov said:
"The answer to this question is very simple – this war cannot be 'won' by anyone. That is recognized by all experts and both sides themselves."
He added that there are still "some players" who dream about overthrowing the ruling regime by force and are trying to do so, "including attempts to provoke the failure of the Geneva talks."
'Russia will help restore statehood in Syria'
French Foreign Minister Jean-Marc Ayrault, in his turn, agreed that the Russia-US brokered ceasefire in Syria remains in a "fragile" state.
"My concern is connected with implementation of the ceasefire regime," Ayrault said. "It's necessary to do everything possible for the political process to be resumed."
Citing Russia's "long-standing historic ties with Damascus," the French Foreign Minister expressed hopes that Russia "may contribute to the building of a real transitional period, will help restore statehood in Syria."
"We should play our role. Russia has played a key role, made a very important step," he added.
In France, news of the HNC's decision has been called "worrisome," with French President Francois Hollande warning that a resumption in hostilities could cause a new wave of refugees to flow into Europe, which has already been inundated with people fleeing the conflict.
"If the truce is broken, fighting will restart, and civilians will flee once again. There will be no hope," Hollande said.
You can share this story on social media: