'Red Army liberated us, that is a fact': Polish city refuses to demolish Communist-era monument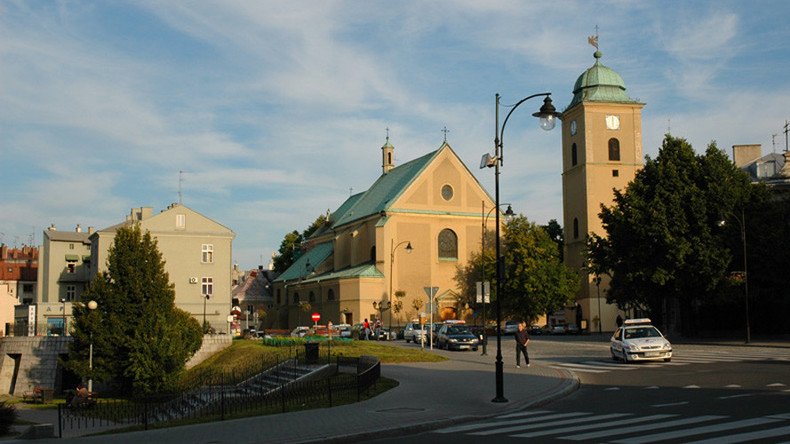 The city of Rzeszow, close to Poland's border with Ukraine, has ignored calls to remove a Soviet-era monument celebrating the liberation of the city from the Nazis. Last month, Poland's historical legacy institute urged the immediate removal of 500 such memorials across the country.
The monument was erected in 1950, and expresses "gratitude" to the Red Army for its actions.
"You shouldn't dismantle monuments, as this will not change history," Maciej Chlodnicki, the spokesman for the city administration, told Onet.pl, a news portal.
"Who liberated Rzeszow? The Red Army, and you cannot argue with that fact. What happened afterwards is a different matter, but you can't change the facts. Millions of people with no interest in political causes perished in that war."
The initiative for the removal came from Wlodzimierz Nowak, an activist for the Center for the Prosecution of Fascist and Communist Criminals, a prominent historical pressure group.
"The existence of this monument is a mockery of the Polish people," Nowak wrote to city hall on April 8. "The Soviets were here between August 1944 and January 1945, and it is widely known that they killed thousands of Polish patriots."
Nowak said that the continued existence of the monument on Ghetto Victims Square – the place where 15,000 Jews were rounded up before being sent off to death camps – represents a "desecration."
"I don't know what to thank the Red Army for. If they want to worship this monument, they can do it in their own country, but we will not celebrate criminals," wrote Nowak, who said that the monument should be replaced by a memorial board for the victims of World War II.
The letter came on the back of a campaign by the Institute of National Remembrance, another body dealing with the country's thorny historical path, which urged local authorities to take apart 500 Communist-era monuments this year, "before a relevant law is created."
Andrzej Dec, who leads the local assembly in the city of almost 200,000, has washed his hands of the contentious issue, saying only that any discussion of the demolition would produce a split decision among the councilmen. Any legal steps would be complicated by the fact that the land on which the monument is located was handed over to a Catholic order a decade ago.
Russia's Foreign Ministry has already promised that "there will be diplomatic blowback" if any WWII monuments are brought down.
"We demand the preservation of genuine history and its symbols," Foreign Ministry spokesperson Maria Zakharova said last month.
Previous removals of prominent Soviet-era obelisks have soured the mood between Moscow and Poland, already complicated by ideological differences, and tensions in neighboring Ukraine.
You can share this story on social media: