'Despicable': Sweden's deputy PM refers to 9/11 attacks as 'accidents' on live TV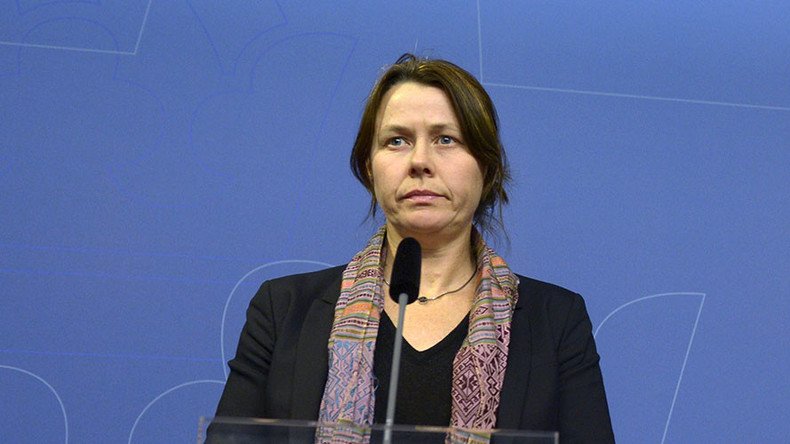 Sweden's deputy prime minister has landed herself in hot water after referring to the 9/11 attacks as "accidents" on live television. Her comment was immediately criticized on social media.
Appearing on SVT's breakfast show 'Gomorron Sverige' on Tuesday, Åsa Romson discussed the resignation of Housing Minister Mehmet Kaplan.
Romson praised Kaplan's efforts in working with Muslim youth associations in Sweden, but then added a surprising and rather confusing twist to her words of affirmation – referring to the 9/11 attacks as "accidents."
READ MORE: Swedish minister resigns after comparing Israel to Nazi Germany
"He has been chairman of Young Muslims in tough situations like the September 11 accidents," Romson said.
Viewers of the breakfast show quickly expressed their discontent at Romson's comments, with many taking to Twitter to share their disgust.
"Had to listen again. And yes, Sweden's Deputy Prime Minister Åsa Romson talked about the 'September 11th accident,'" Johan Ingerö of Swedish liberal think-tank Timbro tweeted.
Twitter user @Lion_Martinez called Romson's comment "despicable." He stated that he had relatives who died in the attacks, which killed over 3,000 people on September 11, 2001.
Others were simply taken aback by the Swedish politician's comment.
Swedish Twitter user @Syloc apologized to the victims of the 9/11 attacks, and apologized for Romson's comment.
Following the backlash, Romson later told Aftonbladet newspaper that the "accidents" comment was actually aimed at the debate on integration that followed the attacks – not about the attacks themselves.
"Let there be no doubt: the attacks on the World Trade Center in New York City on September 11th, 2001, were one of the most vile acts of terror and disastrous violations of the open, free and democratic society in modern history," Romson told the Local. "The tragedy for the world and the families of the almost 3,000 human beings who perished as a result of the attack cannot be overstated."
"We refuse to let terror set the agenda. Not then, not now. We must not let extremism cloud our judgement or fall to the low point where immigrants or Muslims are collectively blamed as a result of the acts of extremists," she added.
The Tuesday comment isn't the first time that Romson has made headlines over a controversial gaffe.
Last year, she was forced to apologize after describing the European migrant crisis as "the new Auschwitz" in a live television debate, leading critics to accuse her of disrespecting victims of the Holocaust. Romson also faced criticism after reports emerged that she had used toxic paint to coat her houseboat, particularly after her own Green Party had criticized the use of toxic boat paint.
You can share this story on social media: