ISIS missile allegedly hits Turkish tank near Mosul (VIDEO)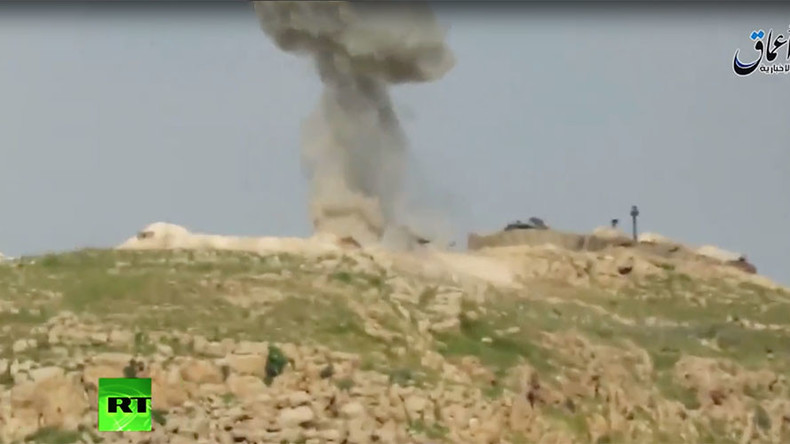 A dramatic video, showing what appears to be a direct hit on an alleged Turkish tank by an anti-tank guided missile outside Mosul, Iraq, has been uploaded online by a pro-Islamic State (IS, formerly ISIS/ISIL) news outlet.
The video has been published online by the pro-IS outlet Amaq, claiming it was filmed near Mount Bashiqah outside Mosul, Iraq, where fierce firefights between Turkish forces and IS militants were taking place earlier this year. The date of April 19, 2016, is also mentioned at the beginning of the clip.
The footage shows the missile of an unreported type fired and guided by an operator. It ejects from the launcher and quickly approaches a tank, said to be Turkish, on top of a lightly-fortified hill. Moments later, the missile strikes the tank's turret, followed by a powerful explosion and a bright flash.
Fragments of the turret armor are blown sky-high, with clouds of dark smoke coming from inside the hull – accompanied by the jihadists' triumphant shouts.
It was unclear if anyone from the crew managed to survive as the clip ends abruptly.
According to previous media reports, Turkey has deployed troops to northern Iraq, citing what it perceived as heightened security risks outside Bashiqa, where its soldiers have been training an Iraqi militia to fight IS. Baghdad strongly objected to the deployment.